The Bespoke Book Project
[Signature Topics & Ordering]
See the rest of the printing section here
After I did the commonplace book and started on the Royal Journals, Lady Ginvera suggested the idea of a bespoke Book of Hours, a collection of material that would cover a variety of subjects and topics specific to an individual. Such a thing could provide a window into the type of knowledge people in period would have had, but in greater depth than could be explored in the earlier small octavos.
While SCAdians tend to be familiar with the beautifully illustrated and calligraphed Books of Hours from the 1300-1400s, in later period printed versions became very popular. Not only was the text printed, but the books were illustrated with black-and-white woodcuts ready to be coloured in by professionals or owners. Some examples even show where the painter has given up partway through.
Lady Ginevra liked the idea of having a collection of favourite poems, prayers, text extracts and other materials, accompanied by illustrations she could paint. I started to research the period examples and collect illlustrations. Things went on hold during the quake years, and then I got a request to produce a medical book as part of our bartered exchange for coronets made by Master Edward Braythwayte.
The Book of Physic consisted of a set of seven 32-page signatures on individual medical topics -- surgery, astrological medicine, herbalism, the plague and so on.
That prompted the idea for the Bespoke Book Project -- I could put together a batch of individual signatures on different topics, allowing people to select which ones they wanted for their own book. I had a vision of a set-up at Canterbury Faire where people could flick through the signatures, put them in the order they wanted, then take them over to a binder to have them bound into whatever type and colour of cover they wanted. The binders were enthusiastic about the concept, and I finally started in on producing more signatures in AS49.
---
Signature Topics and Ordering
I have been producing a series of 24-32 page signatures across a range of topics likely to be of interest to a reasonably broad range of people, I hope. That gives people the chance to select which topics they want for their own book; then they can order them as they wish and have them bound as suits. Some of the excerpts were laid out using the first printed editions of the works as guides for title pages, headers and general design.
At Canterbury Faire people got a chance to see the current selection of signatures, as well as some I adapted from earlier projects, including the Lochac Cookbook (a fundraiser for the Known World Tapestry Tour project, aimed at bringing the amazing tapestry to Lochac. Not surprisingly, the Cookbook proved popular, as did the Bawdy Book, and I could tell which readers were chirugeons as they were the ones wanting all the medical signatures.
I have ideas for more signatures in the future....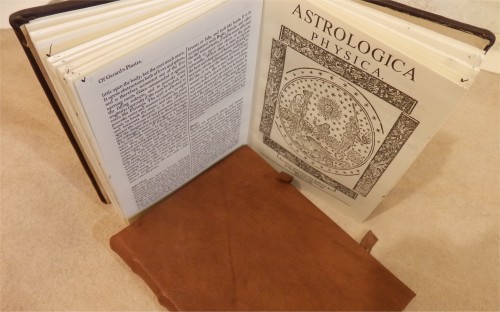 Lady Elizabeth Braythwayte's Book of Physick provides an example of how bespoke signatures can go together, with individal title pages separating out the various subject signatures. Upper book as bound by THL Isabell Winter; closed book bound by Mistress Sancha da Sylva.
At this stage, the current selection of signatures produced are as follows:
Literature: stories, plays, poems
Mr. WILLIAM SHAKESPEARES COMEDIES, HISTORIES, & TRAGEDIES, 24pp
To the Great Variety of Readers, frontispiece from the First Folio
The Taming of the Shrew: Fie, fie, unknit that threat'ning unkind brow
Loves Labours Lost: From women's eyes this doctrine I derive
Richard II: This royal throne of kings, this scepter'd isle; For God's sake, let us sit upon the ground and tell sad stories of the death of kings
Romeo and Juliet: Two households, both alike in dignity; O, she doth teach the torches to burn bright!; If I profane with my unworthiest hand; But, soft! what light through yonder window breaks?; Wilt thou be gone? it is not yet near day; A glooming peace this morning with it brings
A Midsummer's Night Dream: Gentles, perchance you wonder at this show (the Pyramus and Thisbe show)
The Merchant of Venice: Why, I am sure, if he forfeit, thou wilt not take his flesh (the "If you prick us" speech); The quality of mercy is not strain'd
Henry IV Part I, Part II: If I be not ashamed of my soldiers, I am a soused gurnet; Speak, sirs; how was it? (the Boars Head Tavern fight report scene)
Much Adoe about Nothing: Sigh no more ladies
Henry V: Once more unto the breach, dear friends, once more; O that we now had here but one ten thousand of those men (St Crispin Day speech)
As You Like It: All the world's a stage,
Julius Caesar: The fault, dear Brutus, is not in our stars,
Hamlet: O, that this too too solid flesh would melt; To be, or not to be: that is the question
Macbeth: Thrice the brinded cat hath mew'd. (the Witches brewing scene); To-morrow, and to-morrow, and to-morrow
All's Well That Ends Well: Are you meditating on virginity?

References for the Shakespeare plays
Preface, text and general layout from First Folio edition, 1623
British Library: Shakespeare's First Folio
Folger Shakespeare Library: The First Folio of Shakespeare
The First Folio
Preface to the First Folio 1623
What is a Folio?

SHAKE-SPEARES SONNETS. And other Sundry Poems of Good Note. 32pp
63 Against my love shall be as I am now,
11 As fast as thou shalt wane, so fast thou grow'st
140 Be wise as thou art cruel; do not press
57 Being your slave what should I do but tend
19 Devouring Time, blunt thou the lion's paws,


128 How oft when thou, my music, music play'st,
95 How sweet and lovely dost thou make the shame
9 Is it for fear to wet a widow's eye,
61 Is it thy will, thy image should keep open
116 Let me not to the marriage of true minds
25 Let those who are in favour with their stars
143 Lo, as a careful housewife runs to catch
3 Look in thy glass and tell the face thou viewest
22 My glass shall not persuade me I am old,
130 My mistress' eyes are nothing like the sun;
14 Not from the stars do I my judgement pluck;
18 Shall I compare thee to a summer's day?
93 So shall I live, supposing thou art true,
42 That thou hast her it is not all my grief,
129 The expense of spirit in a waste of shame
145 Those lips that Love's own hand did make,
2 When forty winters shall besiege thy brow,
29 When in disgrace with fortune and men's eyes
106 When in the chronicle of wasted time
138 When my love swears that she is made of truth,
17 Who will believe my verse in time to come
Sonnet 30, Edmund Spenser
My True-Love Hath My Heart, Sir Philip Sidney
Sonnet 54, Sir Philip Sidney
Delia: Sonnet XLVI, Samuel Daniel
Sonnet 41, Sir Philip Sidney
Poi che spiegate, Michelangelo
Beware Fair Mayde, Anon
And What If I Did Then?, George Gascoigne
A Passionate Shepherd to his Love, Christopher Marlowe
The Nymph's Reply, Sir Walter Ralegh
In Time of Yore, Nicholas Breton
Were I a King, Edward de Vere
Sir Philip Sydney's Answer
The Lovers Vow, Thomas Lodge
The Happy Life, Henry Howard
Sine Pluma, Henry Peacham
Be Govenor, Henry Stuart, Lord Darnley
Times Go By Turns, Robert Southwell
What is our life?, Sir Walter Ralegh
A Farewell to Arms, George Peele
Youth and Cupid, Queen Elizabeth

Layout generally based on the first printed edition of Shakespeare's sonnets, 1609.

The Booke of Romance 28pp
Treating of the Matters of France, of Britain, and of great Rome.
Morte d'Arthur: Of the getting of Arthur, the sword in the stone and his acclamation.
Pelleas and Ettare: Where innocence meets flawed beauty.
The Romance of Tristan and Iseult: The deception under the Great Pine-tree.
The Song of Roland: The might of Durandal and the death of Roland.
Gawain and the Green Knight: The entrance of the Green Knight.
Troilus and Criseyde: Pandarus offers advice to the lovelorn Troilus.
The Lyttel Geste of Robyn Hoode and his Meiny: The Fourth Fytte: dinner with the Black Monk.

References for The Booke of Romance:
Morte d'Arthur: Malory, Sir Thomas: The Byrth, Lyf, and Actes of Kyng Arthur Caxton 1485; Wynkyn de Worde 1498; Exhibition
Pelleas and Ettarre: Adapted by katherine kerr from Tennyson's Idylls of the King
The Romance of Tristan: Beroul, 12C; translation by Joseph Bédier
Gawain and the Green Knight: translation courtesy of A.S. Kline, Poetry in Translation
The Lyttel Geste of Robyn Hoode and his Meiny: The Fourth Fytte, 13C, adapted from Child Ballad 117
The Song of Roland: The Harvard Classics; woodcut from Fierbras, Jehan Bagnyon, 1497
Troilus and Criseyde: Book IV, Geoffrey Chaucer, 1381 Translation courtesy of Gerard NeCastro

The Bawdy Booke 32 pp
Warning: contains rude woodcuts and disrespectful material
The Story of the Innocents, from the Heptameron, Margaret of Navarre.
The Story of Hermaphroditus and Salmacis, Ovid's Metamorphosis.
The Priest Who Peeked, a fabliaux by Guèrin.
Putting the Devil in Hell, from Boccacio's Decameron.
Facetiae, Poggio Bracciolini.
The Millers Tale, an extract; Geoffrey Chaucer.
Anglo-Saxon Riddle.
Historia Calamitatum, Peter Abelard.
The Canons of Theodore.
The Perfumed Garden, Sheikh Nefzaoui.
Tertia Pars, Summa Theologica, Thomas Aquinas.
A Passionate Pilgrim, by William Shakespeare.
Il Modi: the 15th posture and Aretino's letter.
The Questioning of John Rykener.
Aretino's Sportive Sonnets -- Sonneti lussuriosi.
Why the codpiece is the chief piece of armour, Gargantua and Pantagruel.
The Monk and the Abbot, from Boccacio's Decameron.
I have a gentil cock.
References for The Bawdy Booke:
Title page: the Venetian Courtesan,defrocked; a lift-the-flap by Bertelli, from Diversarvm Nationvm Habitvs, 1589
Heptameron, Margaret of Navarre, mid 1500s; Tale XLV, Volume IV; translated by Walter Kelly; layout based on 1560 edition by Benoist Preuost
Ovid's Metamorphosis, Book IV; title layout based on William Caesium's edition 1624
The Priest Who Peeked; Guèrin, early 13th C
The Decameron, Day III, Tale X, Giovanni Boccaccio; translation by John Payne; title and page layout based on Giolito edition of 1552; woodcut from 1492
Facetiae, Poggio Bracciolini; early 1400s
The Millers Tale, extract from Geoffrey Chaucer, late 14C; layout from Richard Pynson edition 1492; Devil's kiss woodcut 1608
Historia Calamitatum, Peter Abelard, early 1100s
The Canons of Theodore, Anglo-Saxon Penitentials, 7C; layout based on extant MS
The Perfumed Garden, Sheikh Nefzaoui; 925 of the Hegira (early 16C)
Summa Theologica, II.II.154:4; Thomas Aquinas; mid 12C; title layout based on Plantin's 1569 edition
Passionate Pilgrim, William Shakespeare, 1599
Il Modi, Marcantonio Raimondi; Aretino letter 1524; 15th posture woodcut copy 1527
The Questioning of John Rykener; Corporation of London Records Office, Plea and Memoranda Roll A34; 1395
Aretino Sportive Sonnets. 1520s
Gargantua and Pantagruel, by Francois Rabelais, Book III, Chapter VIII; layout based on the first printed edition, 1548; image from Marozzo's Schola Gladiatoria 1550
The Decameron, Day I, Story IV; Boccacio

Life and other things
A Book of Days: a Kalendar, including Saints Days and Holy Days
Illustrated with stories of the saints, scandalous and otherwise, and including divers notes of Calendrical import relating to the Computus of Moveable Feasts and other necessities for being in the right place on the right day.
(This signature has suitably coloured red-letter days, and so will be $10 gold.)
The First Pen Gwynne War: December 5-6 AS XXVII, 16pp
A monograph concerning the legendary Pen Gwynne War, including rare manuscripts and fragments of song and poetry never before collected in one place
Kingdom Calendar, 32pp
The commonplace version of the one that goes in the Royal Journals, with plenty of space for notes throughout the year, bon mots, and an indication of the regular annual events in the Kingdom of Lochac.
The Lochac Cookbook, 32pp
This was a special project undertaken to raise funds to support the Known World AS50 Tapestry Tour, to bring the 100-foot long tapestry and its creator Lady Jadwiga to Lochac. (The visit was completed in March-April AS50.) As part of the fundraising efforts, I hassled, begged, pleaded and threatened lots of people across Lochac to provide me with their favourite recipes, memories of feasts, recommended cooks and so on, and put it all together in a signature for sale at Lochac events. Who knows, maybe I'll be able to get another batch for a follow-up volume.
Natural History/Philosophy
A Bestiary of Lochac (Crescent Isles edition), 28pp, illustrated
A Bestiary of Lochac, THE HISTORIE of Certain Beasts of the Lands of Lochac couering the territories of the Crescent Isles Describing at Large Their True & Liuely Figure, their Seueral Natures, Conditions, Kinds, Virtues (both Natural and Medicinal), their Loue & Hatred to Mankind, Interwouen with a curious variety of Historical Narrations out of Papers, Philosophers, Physicians & Poets.
See here for more on this, including references.
The Perfum'd Crescent Isles, 12 pp, in blackletter
or An astrologo-phisickal discourse on the diuerse and sundrie perfum'd plantes of this land/ being a compleat suruey of the pfioperties/ degrees and vertues of the same as were vsed in Anciaunt times as ofifeyned fofi the hele of all most partickularly those who would scent themselues and their possessions so as to smell the sweeter; Also the pofitrature of the saied plantes very aptly discribed. In the style of William Turner
See here for more on this, including references.
Medical Treatises
On the General Practice of Medicine, 32pp
Hippocrates: Oath, Law and Aphorisms.
Required Medical Studies from the Charter of the University of Paris.
From the Tacuinum Sanitatis.
Regimen Sanitatis Salernitanum.
Of Humours & Temperaments.
De proprietatibus rerum, on the nature of things, Bartholomew Anglicus.
On Fracture and Contusion of the Nose, Paul of Aegina.
Concerning Cranial Fracture in the Shape of a Fissure.
Rolandus Parmensis.
On Fracture and Contusion of the Thigh, Paul of Aegina.
On Treating a Stone in the Bladder, Rogerius.
When Intestines have Fallen Out, Celsus.
Treating a Humpback with Jolting on a Ladder, Hippocrates.
Tools of Anatomy, Helkiah Crooke.
If Amputation becomes Necessary, Hans von Gersdorf.
Artificial Limbs proposed by Ambroise Pare.
The Seynge of Urynes.
A Selection of Leechdoms, Wortcunning & Other Physickes of the Herball From the Anglo-Saxons of Englande to plantes of the New Worlde et al., 32pp
Leechdoms, wortcunning, and starcraft of early England.
Marigold, from Macers De Viribus Herbarum.
Aconite.
Lacnunga on Mugwort.
Anthonye Askham on Roses.
Of Mandrake, Advice from the Ancients & Moderns.
Advice from the Tacuinum Sanitatis.
Ioyfull Newes - of the Tabaco and of His Greate Vertues.
John Gerards Plantes; their Government & Virtues.
A Short Discourse Treating of the PLAGUE. 32pp
Of the Plague as Describ'd in Boccaccio's Decameron.
The Story of Philiscus.
The Words of Agnolo di Turo, of Siena.
Concerning A Mortality in the City of Florence.
Isabella Whitney's Sweet Nosegay.
Ordinances for Pistoia to prevent Disease.
Plague Orders thought meete by his Maiestie, and his Priuie Counsell &tc.
A Litany in Time of Plague, by Thomas Nashe.
An Advice set down upon her Maiesties expresse commandment &tc.
The excellent powder of Nostradamus.
Bills of Mortality.
Astrologica Physica, 32pp
The Astrologicalle Judgmentes of Phisick, Simon Forman.
Behold the Figure: of the Zodiac Signe.
An Astrolo-Physical Discourse, Culpeper.
Casebook of Simon Forman.
Amicus Medicorum (Friend of the Physician), Jean Ganivet.
Astrological Artes of Paracelsus.
The Action of the Stars, Planetes & other Celestial Bodies, Ptolemy.
A Very Littel Treatys, Anthony Askham.
A Certain Number of Aphorisms selected from Ptolemy's Centiloquium.
Practices of the East.
The Mansions of the Moon according to Abenragel.
Letter from Simon Trippe to his good frinde Mr. George More.
De Medicina, Book 3 by Celsus, 32pp
Of the seasons.
Of various sorts of weather.
The periods of life.
The temperaments.
Of Signs & States Pertaining to Illness.
Of Certain Signs & States of Diseases.
Of Signs of Hope or Danger.
Of General and Special Aids.
Concerning Food & Drink.
References for medical signatures:
Abenragel: The Mansions of the Moon
Agimet of Geneva: Confession, 1348
Angelicus, Bartholomew: De proprietatibus rerum
Ashmolean: Herbal Images
Aux Mailles Godefroy: Medical Techniques
Baddiel, David: Bills of Mortality comedy sketch
Barber-Surgeon Hall: The Physic Garden
Bills of Mortality 1609
Celsus: De Medicina text, De Medicina layout 1493, 1574
Culpeper, Nicholas: Complete Herbal
Dawson, W.R. A Leechbook or Collection of Medical Recipes of the Fifteenth Century, Macmillan, 1934
Galen: Book I, II, III; On Diagnosis in Dreams
Gerarde, John: The Herball, 1597
von Gersdorff, Hans: Feldbuch der Wundartzey, Strasbourg, 1540
Hippocrates: Aphorisms; The Oath and Law; Humours; Epidemics: Philiscus
Leechdoms, wortcunning, and starcraft of early England
Hyginus: Agnodice
Lilly: Astrology
Ordinances for Pistoia
Napier, Richard: Prefaceto The astrologicalle judgmentes of phisick
Nashe, Thomas, A Litany in Time of Plague, 1592
Nostradamus: Traité des fardemens et conserves
Paris University Course in Medicine
Paul of Aegina: Epitome
Parmensis, Rolandus: Chirurgia, 1382
Peacham, Henry: The Humours, Minerva Brittanna 1612
Plague Orders: Orders thought meete 1531, 1563; 1578; 1603; 1655
Patron Saints of Medicine
Prüß, Johann: Mandrake Root; Hortus sanitatis, Straßburg, 1497
Ptolemy: Tetrabiblos
Regimen Sanitatis Salernitanum
Royal College of Physicians: Urine Wheel
St Louis University: What a Piece of Work is Man; Medieval and Early Modern Science and Medicine
Steffani, Marchione di Coppo: Concerning the Mortality in Florence
Tacuinum Sanitatis
UCLA: Index of medieval medical images
de treveris, Peter: The Great Herbal, 1526
di Tura, Agnolo
Tusser, Thomas; The Good Housewifely Physic, Five Hundredth Pointes of Good Husbandrie, 1551
Vesalius: Frontispiece, De humani Corporis fabrica, 1543
Virginia University: Antiqua Medicine, from Homer to Vesalius
If you've got any ideas for general topics likely to appeal to a batch of people, let me know.
---