Peerage
My Peerage Stuff
[Laurel Call to Vigil] [The Vigil -- a Disputatio] [Laurel Ceremony] [Chaplet] [Peerage Robe] [Laurel Patent] [Peerage Thoughts]
Peerage Elevations and Entertainments
[Ginevra di Serafino Visconti] [Sebastian von dem Schwartzwald] [Alliette Delecourt] [Hugh de Calais]
---
When I was made a Pelican in AS39, it was a bit of a non-event -- I was stepping up as Baroness of Southron Gaard the following day and all our focus had been on that. (We'd had around three week's notice of our elevation, and 10 days of that was spent out of the city, so things were a little rushed.) In addition, I hadn't heard anything from the Pelicans and didn't even know if I was allowed to tell anyone. Asbjorn was having his knighting vigil at the same event, so I sat quietly in the corner listening very hard...
In the years since then I have continued to think hard about peerage, what is expected from a peer and how it affects the way in which we interact with others. It's an on-going process and one which I don't expect to end.
I have also been privileged to consult on a number of elevations, or just cheerfully horned in with some elevation-related entertainments. More on that here and here.
---
Laurel Call to Vigil
When I was asked by Their Majesties Bran and Lilya to join the Order of the Laurel, I initially demurred. It was something I needed to think hard about. There was some initial confusion about whether I had said yes, no or maybe, so when I did decide to accept, I asked Their Majesties if They could distribute a writ to bruit about the decision; They kindly agreed to this. I was invited at May Crown and asked to be elevated at the following Canterbury Faire, eight months later should the then-Majesties re-issue the invitation. So I had a while to wait and think....
The following writ is based on English and Scottish writs from 1301 and 1553 (with grateful acknowledgement to Maitresse Yvianne for her handy collection of scroll wordings based on period texts.):
We, Bran and Lilya, Righ and Bannrigh Lochac, to the assembled populace send this writ that all may know of Our commands herein.

All attend and know that We have heard much of Mistress Katherine Kerr and her work in the production and distribution of newsworthy items couched in suitable fashion as enriches our daily lives, be it in the form of commonplace books to educate the populace in items of suitable knowledge; broadsheets to announce the results of a Crown Tournament; collections of poetry and prose to record our doings; certain chapbooks, scurrilous though they may be, and so forth. And many such other diverse matters as touch upon her life and lineage in the lands of the Scottish Borders, which lie near to Our heart.

Wherefore We commend her for this service and those arts which have devolved therefrom and, after careful deliberation and discussion with others who know this good lady's reputation and her works, We are minded to see her recognised with such suitable title as befits one who has enriched Our realm.

Thereunto, Mistress Katherine is commanded to attend Canterbury Faire next, in the fair Barony of Southron Gaard, ready to be recognised by ceremony as a Companion of Our noble Order of the Laurel.

We would see the said Katherine welcomed into this Order partly as an expression of homage to distinction already attained, partly as an encouragement to further effort. The said lady is to do this that We may hear no more clamour thereupon for want of what is right and well deserved.

In the meantime Mistress Katherine is to hear counsel in contemplation of elevation. Know that said counsel may come from those long-regarded as the exemplars of the Kingdom, but no less from those new come into our society, for all may have words of wisdom and thoughtfulness as are mete on such an occasion.

So say we Bran, Righ Lochac Lilya, Bannrigh Lochac
---
The Vigil -- a Disputatio
I enjoy vigils. They are one of the few chances we get to have the meta-discussions that delve into why we play this game and how it affects who we are. I enjoy being challenged and having my assumptions questioned, seeing that as providing a chance to think and learn and grow. So when I started to think about what I would want for a vigil, I knew I wanted a means to that, preferably in a period style. Master Robert of Canterbury suggested some form of academic approach, so I began research into that area.
As a former debator and quondam professional orator, it is perhaps inevitable that I'd turn to the various scholastic practices in late period. The disputatio seemed to offer the best framework, being recognised as a "formalized method of debate designed to uncover and establish truths". They tended to have a set format, typically with a student responding to the point under debate set by a master; other masters would then present objections or raise further points of discussion and so the dispute would proceed. Whether the truth would actually be uncovered is another matter. Proofs from authority were considered very important, with appeals to Aristotle or the Bible seeming to trump any actual original thought or reasoning, despite the emphasis on logic.
I quite liked the concept of the quodlibet, where a master would take the floor and respond to all manner of questions thrown at him by the assembly, in a form of academic face-off sometimes even involving the master's students. However, that seemed a little presumptive. And although I did consider a number of possible moots for a straightforward debate or quaestiones, I finally decided that something a little more open-ended would be valuable.
So I started sending out invitations to the peerage orders:
Know that as part of my vigil prior to elevation to the Order of the Laurel at Canterbury Faire next, there will be held a disputatio wherein all are welcome to listen to any Peers who will declaim in response to the question:

What is the most important virtue a Peer can have and why?


All Peers, from whatever Order, will be most welcome to a maximum time of two minutes apiece in which to convince the audience of their argument. You are welcome to choose any virtue you consider is the most important, whether traditional (such as temperance or chastity) or modern (such as moderation or passion).
At the completion of the disputatio, all attending members of the populace will be invited to indicate which virtue they would consider the most important, based on the discourse they have heard. The remainder of the vigil will be spent in a more informal free-for-all discussion, to be accompanied by light refreshments.
An you not be able to attend Canterbury Faire, you are very welcome to send a missive of no more than 500 words which shall be read out.
I also made up a small playbill (A4 PDF here) to pin up around the Canterbury Faire site so that all would know that this was an open vigil.
Virtues
Initially I thought it would be a relatively easy thing to pick out a batch of virtues -- after all, there's only seven of them, right? Wrong. Depending on who you're reading, there are various groups:
The Cardinal Virtues:
temperance (sometimes restraint), prudence, fortitude (sometimes courage), justice -- as approved by the Greek philosophers such as Plato, and later the Church
The Theological Virtues:
love/charity, hope, faith -- St Paul's preference, not inherent but conferred at baptism
The Seven Contrary Virtues:
humility, kindness, temperance, chastity, patience, charity, diligence -- so-called because they are traditionally set against the Seven Deadly Sins, originating from Psychomachia by fifth-century poet Prudentius
The Seven Heavenly Virtues:
faith, hope, charity, fortitude, justice, temperance, prudence -- combining the Cardinal and variants on the Theological
The Knightly Virtues:
prudence, temperance, justice, fortitude, humilty, compassion, courtesy, devotion, mercy, purity, peace, endurance -- said to be represented in the arms and points of the cross of the Order of St John
The Courtier's Virtues:
decorum, discretion, nonchalance and grace
The Roman Virtues:
for all their heralded vices, the Romans had a long list, which included dignity, mercy, frugality, gravity, wholesomeness and perseverance
Which virtue would you pick?
Some years later I came across a reference to Maximillian I being termed "the Last Knight", because he embraced the idealized virtues of chivalry and was an avid student of the "seven knightly responsibilities": cited as riding, climbing, shooting, swimming, wrestling, dancing & courting, jousting. Not quite virtues, but an appealing set of skills for a chevalier.
The Outcome
The Disputatio concept seemed to really appeal to people, whether the Peers undertaking some preliminary discussion on which virtue to pick, or the populace keen to hear the arguments. Some Peers were very nervous; some were keen to send me their thoughts from afar.
On the night, we recorded who was speaking on what virtue -- of 24 participating Peers, they had chosen 22 different virtues to support! The members of the populace were given five beads on entering the lodge and told to drop it into the paper cup of the virtue/s that had impressed them the most. I also made up a concertina booklet which contained a selection of my favourite quotes on the values and virtues which this Society represents for me.
(Peerage concertina PDF. If you want folding instructions, please contact me.)
The room was very hot and very very crammed, but people persevered and stood outside at the windows too. We broke for supper and some air, and the counting of beads revealed that the winning virtue was that of Love, though His Majesty's choice of Joie de Vivre did well too -- they both spoke of why we play this game and what, ultimately, makes it worth playing.
It's my intent to produce a booklet of the collected thoughts on virtue (Lady Caterine de Vantier kindly transcribed the disputation as the arguments were presented, and then ensured that all were happy with the words as recorded -- huzzah that lady!).
---
Laurel Ceremony
I thought long and hard about the ceremony I wanted for my Laurelling and what I wanted it to say. I read a lot of ceremonies, both period and SCA, and came up with the following. It takes a different tangent from many peerage ceremonies, in that rather than talking about me, it stresses the responsibilities that I should be cognisant of as a Peer.
Some of it has come from the Caidan invocation to vigil. Some of it was inspired by the Laurel elevation ceremony of Anneliese Wolkenhaar. A great deal of the thought behind it was prompted by the various writings of Master Hector of the Black Height (who was kind enough to communicate with me on this throughout the birth of his child!).
Baron Giles Leabrook, oft-termed the Sexiest Voice in Lochac, agreed to be my herald, and did the words proud, as did Their Majesties Gabriel and Constanzia.
Herald: Your Majesties, the members of the Order of the Laurel would beg a boon of you.
King: Let them come forth to ask, and if it is within our power and a proper thing it shall be theirs.
Laurels attend and arrange themselves, leaving a gap down the middle of the court.
Crispin (Clerk of the Order): Your Majesties, there is one present here in Your court whose honour and achievement in the arts and sciences entitles her to recognition. With one voice, Your Majesties, we affirm and attest her knowledge, service and honour, and would welcome her as our colleague and Peer.
King: You have spoken with Us of her and We are in agreement that she is worthy of Membership in your noble Order. Let Katherine Kerr be called forward.
Herald: Katherine Kerr, you are called into the presence of Their Majesties.
Katherine enters and kneels before TRMs.
(I had started court with my trusty plaid around me and noticed some twitches. Not sure if they got worse when I was called up and dropped the plaid to enter the Royal presence in nothing more than a long linen chemise -- some matching modern underwear under it just in case -- barefoot and with my hair down and around my shoulders. It was a deliberate reference to the period coronation and knighting ceremonies where those involved were in their shifts or naked. Some cautious kite-flying beforehand had drawn horrified gasps at the idea, but I had a number of people afterwards who said they understood the symbolism. It also had the practical utility of not requiring any fancy garb and, on a day when the temperature soared, I was the coollest person in court! )
Herald: The strength and stability of the Kingdom lie in these virtues of its people: service, chivalry, and artistry - for should any of these fail, the Kingdom fails. The same is true of individual peers who should each hold within them those three virtues of service, chivalry and artistry.
King: It is mete and proper that you understand well what you are about to promise in becoming a Peer in this court. For Peers are the lasting legacies which the Crown wills to the Kingdom, and we would wish to be proud of such. What say the Orders?
Master Bartholomew Baskin as Pelican representative stands:
The Order of the Pelican honours the virtue of Service. But every peer has a responsibility to serve. As a Laurel you should further your knowledge and practice of the arts and sciences, being sure to assist others in this endeavour, nor forgetting to manage the workload such that it does not sacrifice the well-being of any involved or of the undertaking at hand. A Laurel must be willing to do good works and help others in doing so. Be helpful.
Pelican sits. Sir Inigo Missaglia as Chivalry representative stands:
The knights value the virtue of Chivalry. But no less chivalrous behaviour will be expected of you: as a Peer of the Realm, you must endeavour to live, as you have until now, by the rules of gentle behaviour. This courtly ideal must be your guide in your conduct with all others as a Laurel, to Peer and populace alike: to deal with all justly and fairly, regardless of station, to be gracious and courteous, to be an example to whom others can look. Be good.
Knight sits. Mistress Katherine Weyssin as Laurel representative stands:
The Order of the Laurel exemplifies the virtue of artistry, of scholarship. Knights and Pelicans, as Peers of the Realm, are expected to have a measure of talent or skill. But a Laurel should aspire to the best they can be in all endeavours -- not for your own exaltation, but for the good of others. Rightly or wrongly, a Laurel is taken as an authority whose words carry considerable weight; this will be both an honour and a heavy burden on you. Be wise.
King: From those given great honours, are great things required. Will you accept from Us both this honour and the responsibilities inherent in it?
KK: Aye.
Fealty Oath
Herald: Will you now swear fealty to the Crown and Kingdom of Lochac?
KK: Aye.
The King and Queen put out Their Hands, and Katherine places her hands within them.
Herald: To your Liege lords and before your Peers, repeat after me:
Here do I swear by mouth and by hand fealty and service to the Crown and Kingdom of Lochac
I swear to strive to remember the virtues of courtesy and kindness,
to prize justice and the well-being of others above personal gain,
to do my best endeavour with wisdom and discretion
to give the best advice and counsel that I can in all things
to respect the laws of this Kingdom
to give generously of my time and knowledge to serve the common weal,
in all matters as concern the Kingdom, on my honour, and the lawful command of the Crown
All these promises I shall well and truly do my best endeavour to keep, maintain and observe to my power
from this hour henceforth, by my hand and my heart, so swear I,
Katherine
(This fealty oath is not the traditional Lochac one, but has been adapted from a variety of sources, most particularly oaths sworn by livery companies and other officers of the Crown during the Tudor period, such as those of the Merchant Taylors Company. It also reflects some of the important virtues, as well as covering the main points of the Kingdom fealty requirements.)
King: This do We hear, nor fail to remember,
and We for Our part do swear fealty to you,
to protect and defend you with all Our power,
until We depart from Our Throne, or death take us, or the world end.
TRMs: So say We, Lochac.
TRMs and Katherine to kiss.
King: Then We now proclaim you, Mistress of the Laurel.
Chaplet
King: Mindful of Our knowledge of your worthiness and the wishes of those who bear the wreath, it would please us to see you bedecked as a Laurel should be. Do you have a token of the Order you have just joined and a symbol of the fealty you have just sworn?
Katherine passes the chaplet to His Majesty.
Herald: Here presented is a chaplet of coral beads; beads gifted by Dame Yolande Kesteven, joined by links and tokens from those Laurels who have inspired Mistress Kerr through many years:
They come from across the realm, from:
Mistress Caristiona nic Beathean
Master Cormac Lenihan
Mistress Roheisa le Sarjent
Mistress Bethan of Brockwood
Master Steffan Glaube
Mistress Sabine du Bourbonnais
And Mistress Constanzia Moralez y de Zamora, Our Queen
At the end of the chaplet are links from Four Worthies of the Kingdom whom this lady regards as shining examples of all to which she would aspire:
They are:
For the Pelicans: Master Bartholomew Baskin
For the Chivalry: Sir Inigo Missaglia
For the Laurels: Mistress Katherina Weyssin von Regensberg
And from Yourself, Sire, for those who have borne the burden of the Crown
The chaplet ends with a medallion cast by Master Crispin Sexi, bearing the laurel wreath that is an evergreen reminder of the oath this lady has just sworn to the Crown of Lochac.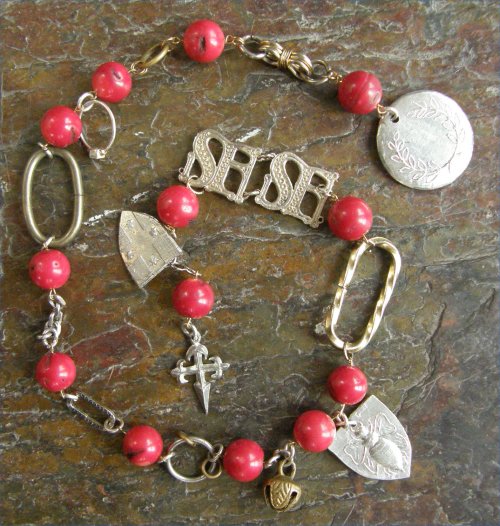 (This pretty much sums up the chaplet. I figured I had a fealty chain as a Pelican and I wanted something personal to me. This seemed a good approach to that. Each person represented aspects I wished to reinforce in myself in how to act as a Peer -- generosity, encouragement, challenge, communication, enthusiasm, support, honour and remembering that small gestures can have lasting effects. The chain has since had other additions gifted to me, such as a Kingdom badge from Master Iarnulfr cast at Canterbury Faire; the SS links from Mistress Branwen and Master Kilic. I made matching earrings and a carcanet.)
Robe
| | |
| --- | --- |
| | Spot the laurel -- there are two! |
King: Let Katherine be robed as befits her new estate.
Ginevra, Taddea and Antonia come down the aisle. Ginevra bears the folded robe, shakes it out and it is held by Taddea and Antonia for the robing.
King: Does this robe have a history?
Herald: Your Majesty, this peerage robe was made by the hands of
Lady Ginevra Isabella di Serafino Visconti,
Mistress Taddea di Giorgio Mellini,
and Mistress Antonia di Bennedetto Calvo,
as a gift for Katherine.
It bears the artistry of Lord Ronan mac Briain upon it, encircled as it is with the Pelicans of Mistress Katherine's service to this Kingdom, and the wreaths indicating her admission this day to the Order of the Laurel.
(The robe was inspired by those made for East Kingdom peers by John Dillon. The fact that the Lochac Laurel cloak is resplendent in polyester hideousness made the above ladies -- Pelicans and populace -- decide to embark on a project of crafting a beautiful Elizabethan loose gown for me, with hand-dyed silk, vast numbers of beautiful handmade buttons, and glorious embroidered Pelican and Laurel roundels. As it turned out, a whole batch of people ended up doing the finishing touches at Faire, including Ladies Amalie, Thordis, Alliette, Melisande, and Katherine Stewart, and Her Majesty Constanzia.
At the last minute I made a coif of maintenance to go with it; I'd been talking about making a cap of maintenance for some time. Unlike the traditional red, it is in blue velvet for the Scottish caps which indicated a landless baron, with rabbit tails taking the place of ermine, and a bejewelled laurel headband to hold it on my head.
By the time I stood up at this point in the ceremony, I was fully clothed and my hair hidden, as befits a married woman of estate.)
| | |
| --- | --- |
| | |
King: Arise, Katherine, Mistress of the Laurel, and greet your Peers.
Herald: For Mistress Katherine , newest member of the Order of the Laurel, Hip, hip! (*3)
Patent
King: Let the proclamation be read.
Herald:
Gabriel, by right of Arms King of Lochac, and Constanzia, Queen of Grace and Beauty of said Kingdom, all and singular as well Nobles and Gentles as others to whom these presents shall come, be seen, heard, read, or understood.


Forasmuch as anciently from the beginning the valiant and virtuous acts of excellent persons have been commended to the world with sundry monuments and remembrances of their Good deserts.


Know ye that of Our especial grace and in consultation with certain Peers of Our Realme, We by these presents for Us, Our heirs, and successors do give and grant to our trusty and well beloved servant Katherine Kerr, gentlewoman, free liberty & licence from time to time, and at all times for ever hereafter, to discover, search, find out, and learn all such manner of things as may give her wisdom, knowledge and joy within the joint and several arts and sciences to which she may assay, as befits a Companion of the Order of the Laurel and to the enrichment of the wealth and knowledge of Our most favoured Kingdom of Lochac. And that she do so, bearing in mind the virtues of service, chivalry and artistry which underpin Our noble realm.


Therefore, by these letters Patent We confirm the said Katherine an exclusive right to bear certain armes, thus blazed:


Per chevron embattled gules and azure, two curs heads couped argent collared sable and a tower argent.


Moreover she shall be entitled to enjoy and use all and singular liberties, customs, laws and privileges, freely and quietly, such as any faithful subject and member of the Order of the Laurel can use and enjoy, being now accepted and enhabiled and granted and confirmed and registered and entered herein, by the Authority of the Crown of Lochac.


In witnesse whereof, We set Our handes and Seales upon these letters at Our Court this vth day of February, in the eighth year of the Kingdom of Lochac, Anno Societatis XLV
Whew! Yes it was a bit of a mouthful, but I guess the populace is used to that from me. (And it's always a joy to listen to Giles Leabrook proclaim.) By the end there was speculation on both their part and that of the Crown as to just what exactly had been promised me. No tricks though, it simply says I get what's coming to me as a servant of the Crown and a member of the Order of the Laurel. Honest! The actual wording is a mix of material from Elizabeth's grants, predominantly a Second Grant of Arms from 1586 awarded to the Merchant Taylors and Letters Patent to Sir Humfrey Gylberte issued in 1578.
I was lucky enough to have the highly talented calligrapher Mistress Branwen of Werchesvorde pen my scroll in beautiful teeny-tiny writing -- all those words! It was based on a Letter of Patent of Henry VI with great cadell capitals and dependent seals, lovely.
The sterling efforts of the Provost of Scribes certainly had borne plenty of fruit. Not only did I get my Laurel scroll at the following Canterbury Faire (ASXLVI, 2012), but also my Pelican one, courtesy of Mistress Cairistiona nic Beathain herself and had my Award of Arms scroll presented to me by the visiting Majesties of Caid. (It had also been done by Mistress Cairistiona as part of the Rowany Scribes very generous efforts to complete the outstanding Caid AoAs -- I had been awarded an AoA originally back in 1996!)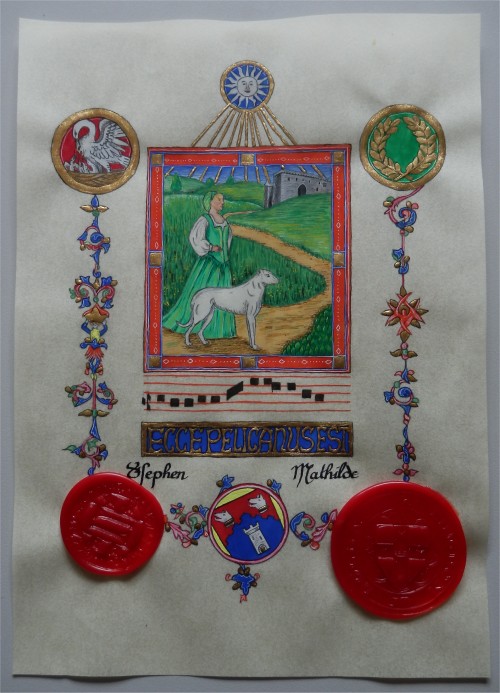 I had pointed Mistress Cairistiona at a 1340 Florentine work by the Master of the Dominican Effigies. I figured this would be my TSCA scroll, as it has nothing to do with my persona -- I just liked the look of it. The scroll has Ecce Pelicanus Est, and the music on my version has the refrain from Master Crispin Sexi's anthem for Southron Gaard ("long may she stand!"). The central image is based on that produced by Lord Ronan mac Briain as the logo for Canterbury Faire ASXLV. That's me in my court garb, walking towards the Hermitage. (I did remark at the time that both me and my dog appeared to have lost a bit of weight...)
---
Peerage Thoughts
Pelicans
One of the greatest difficulties Pelicans have is in assessing the work-service level of a potential member of the Order. Peerage qualities -- or lack thereof! -- are usually fairly obvious, but how do you judge what a person has been up to, what influence they have, how they think about the things they do?
For me, one of the primary things I look for is the differentiation I make between work and service. You can have people work a great deal, but if the outcome is not good, it is not service to the benefit of the Kingdom. Here's one (purely fictitious) example I have used sometimes to try to distinguish between the two:
Person One has been a member for 10 years. In that time, they have held four offices, filing their reports on time, attending officer meetings regularly. They have stewarded an annual event for 8 years which is themed around their particular interest in X. It runs to budget and has good support from the local populace. They teach classes in X once or twice a year, and have had a household of 8 people that functions as a tight unit.
Person Two has been a member for 10 years. They have held two offices. In one, they took over temporarily from a faltering Officer, cleared up the accounts, got up to date with the reporting, trained a deputy and set up procedural/support structures that would help avoid or mitigate the situation that led to the initial problem. They have stewarded two events. One of these was a major event which involved them organising and supporting a number of sub-steward teams that led to the local group having a batch of competent stewards who went off and organised other events.
Which one do you see as the Pelican?
To me, Person One is doing excellent work (which would certainly be considered as part of a body of work by the Pelican Council); but Person Two is undertaking service, in that they are building resources and strengths in the wider group; looking at how to make life easier for others by identifying problems and putting solutions in place; and generally making the Society itself stronger.
Work is about getting this task or that event done, in some acceptably competent fashion; service has an eye on the future. Service is about looking with an analytical eye to see what improvements can be made; to identify how people can work more easily or in niches that play to their strengths; to find better -- more efficient, cheaper, easier, simpler, more robust -- ways of doing things rather than continuing to do it the same way year in-year out; to build resources, both physical and mental, to produce a stronger group.
Some of it requires experience in Real Life -- one of the reasons why getting to peer-level can take a while. It can take a good deal of experience to develop the project management-people management skills that form a firm foundation for a Pelican peerage.
Some of it requires a certain degree of emotional maturity and self-awareness -- and this can take time too; some people never quite get there for any number of reasons. That's not to say that all Pelicans are always rational, reasonable, unemotive paragons of virtue! But the Pelicans I admire tend to be those ones who have at their core a sense of calm courtesy, no matter their state-of-the-moment, stressed or otherwise.
This has ramifications for how you treat people and handle responsibilities. An obvious expression is in the way you approach doing things you don't want to do -- it's easy enough to work on things that interest you, but what do you do when it's outside your interest area or skill set? You can box on through, do an adequate (or half-assed!) job, maybe finish up resentful or vowing to never do that/work with them again. And you will have achieved something.
But to me, there are higher-level approaches that I would like to think characterise the Pelican Way. In the example to hand, this would be things like:
recognising something is outside your interest/skill area and not volunteering for it in the first place (or declining to be volunteered in a graceful fashion); sure, this means no work, but sometimes the service is in not doing the work, gettit?
recognising that you're not as focused as you should be and finding someone to pass it on to with suitable hand-over and support in a timely fashion
recognising the potential negative outcome/s if you do take on such projects and drop the ball, and finding ways to mitigate that or to bring others alongside in support/learning
actively identifying someone who would benefit from running such a project as a means of giving them a niche, greater chance for recognition, a place to play, resulting in their growth
finding ways to transcend the lack of interest (Yes, it's the "spoonful of sugar" approach!)
It's this sort of approach or awareness that I see as part of a functional Pelican mindset.
Many people start off doing work and, as they recognise common problems or issues or gain more experience, they may progress towards service; others may never make that leap or rotate back and forth over time as life, commitments and opportunities dictate.
So how can you tell when they cross the line from being a valued member of the Society to being a Peer?
For me, I'd want to take a close look at how they have handled their roles -- were they fill-ins, limited in scope, stand-alone roles? Or were they ones in which they improved on what was expected, brought others in to bring their skills/experience up, involved those other aspects which I see as more service-oriented than simply getting the work done.
I want to know much more about a candidate than seeing a list of events run and offices held -- sure, that's handy information but what I really want to know how did those events go; did the support crew walk away rightfully smug about their success or vowing never to volunteer again; did the in-coming officer get good hand-over and support to allow them to hit the ground running?
I feel better if I've had a chance to sit down and talk with the person about where they see themselves, what they think makes a peer, if they recognise their weaknesses as well as their strengths and how they handle difficulties. Sadly there are relatively few opportunities to do this outside a formal peer-student relationship.
One of my basic ways of evaluating someone is to say to myself if I were asked to point to someone I see as an example of what a Pelican should be, would I point at them without hesitation? Or would there be caveats? And, if so, how many and of what nature? And that can then lead to figuring out if there is anything that can be done to address those caveats.
"Yes, but I wish they'd dress better" : irrelevant to me, unless they are totally flouting the SCA rule of pre-1600 attempt and breaking the game for others.
"Yes, but they can be unreliable" : how can that be worked on, are they aware of that issue and the problems it causes? Shall we wait and see if they can improve or have a talk with them about it?
"Yes, but they aren't a leader" : take a closer look and see if they are leading from the rear (ie a deputy who supports, teaches and nurtures others is leading; as is someone who knows when to step aside and watch, giving others a chance to learn/shine). Do people turn to them for help/advice/assistance?
"Yes, but they consistently piss people off and no-one wants to work with them" : can that be addressed/are they likely to improve? If not, then they're not going to be a Pelican as that's pretty much a bottom-line.
I think that it helps everyone if we take what opportunities come to discuss these sorts of issues, bring it up at meetings, mention it at vigils, initiate peerage discussions with the general populace at opportune moments (like when you have them stuck in a kitchen, round a campfire, at a stitch-and-bitch session).
We need to acknowledge those stalwarts who are willing to give of their time year after year (and not just with formal awards either), but we also need to openly recognise that to ensure a society lasts and strengthens and grows. We are in even more need of those who train and mentor others and make the systems work easier so everyone has a better time, who build solid foundations for groups that can grow themselves.
(Wanna know the secret short-cut to identifying a potential Pelican?
Do they put their supermarket trolley away?)
---
Laurels
I've always thought that we tend to over-rate perfection in our practice of the arts in the SCA. We should bear in mind that the things that have survived are generally the top end of the bell curve -- they have survived precisely because they were the best of the best and people saw fit to honour them by preserving them. Fair enough.
But we're being a tad anal-retentive in thinking that all blackwork has to be reversible on 36-count linen, and killing our eyes to make it so. I was delighted to see an example in the V&A of some rough-as-guts blackwork, the equivalent of using perle cotton on 14-count Aida (which is what I used for my kid's cuffs, boy could you scrub it when you needed to!).
It was great to see that a lovely loose gown had panels of velvet pile going every which way, though I daresay that was a matter of economics, rather than mis-matching. And I delight in watching people at events who are wearing clothing, rather than garb -- there's an indefinable air about caps and aprons that makes you feel far more within the frame, as it were, than you get with the blingiest item of court dress. I'd take the Bermondsey Fair over the Phoenix portrait any day.
I say that I don't do calligraphy, I do handwriting. And I've got more than enough examples of uneven hands, sloping hands, smudged tear-stained letters (Mary Queen of Scots produced lots of those), missives with cross-outs and insertions etc in official correspondence that's been dashed off on a scrap of paper. One of these days I may convince the Scribe's Guild that that is just as authentic as the most perfect illuminated bastarda, but I'm not holding my breath....
I was delighted to see the page in an early printed book which had the clear imprint of a piece of type that had fallen out during the process and embedded in on the page. Or, even better, the cat pawprints across one page, made on the day of printing 500 years ago. Lovely! So if a paper jam skews some of my chapbook pages on printout, I'm happy to use them. My counterparts in the 1550s would have and I've got the slack examples to prove it. I've been known to deliberately skew woodcut graphics and spot-colour fillers just a tad to match the mis-registration you see in some texts. It may not be perfect, but it's period.
On the odd occasion when people ask me what my Laureldom was in, I say "I'm a Laurel of the mediocre, and proud of it!". I have had some objections to that -- some of my stuff is not that mediocre; it's letting the side down to celebrate what sounds like badly produced A&S; people would not have settled for mediocre if they could do better -- and many of them could. Perhaps a more appropriate term would be "Laurel of the Ordinary". Yes, I think that's it.
If you want to see an argument against this, take a look at the Afterword commentary on the velvet sleeves I made as a period favour. There are some times when the ordinary will not do!
Other Thoughts on Peerage
Here's a thought-provoking comment on the debate around the "fourth peerage", which I think covers my thinking nicely:
Is a Mistress of the Laurel for embroidery lessened whatsoever by the inclusion of a potter into the Order of the Laurel? No! If anything, I believe the Order grows stronger - having included another viewpoint and another expert. Is someone who gained her Pelican for doing lots of work as an Exchequer lessened whatsoever through the inclusion of a member who is known for running large-scale events? Heck no! Again, the Order only grows stronger, and the Kingdom (and by extension, society), grows stronger by having a new peer to teach, inspire and guide.
So what would be the negative to including people into the Order of Chivalry for their mastery of fencing?
If you'd like to read more, here's the full item.
While I very much welcome our Fourth Peerage, I still believe that the martial orders belong together in the Order of Chivalry. After all, in mundane life, I am a non-knighted member of an Order of Chivalry headed by a reigning monarch, and I very much doubt the knights of that Order feel diminished by my presence in their ranks...
---