Consorting Garb for Radbot and katherine
Headware, Torse and Lambrequin, Coronet and Chapeau, Lederwams
Garb for Katherine, Tourney Girdle, Tourney Favour
Rat Stuff: Death of Rats, Tray and Tableware, Ratbags and other Embroidered Items
[Crown - A Rat and a Cat Consort] [Consort Correspondence] [Rat Heraldry]
Other Crown Activities
When I began consorting with Sir Radbot I told him in no uncertain terms that I was not a garb Laurel, but...
---
Headware
Gubbins Entry 2 cited With silken coats, and caps, and golden rings, with ruffs, and cuffs, and farthingales, and things for a garment to be worn. I'm not a great one for making garb, but I managed to find something to fit this challenge both for my persona and as Sir Radbot's consort.
My mother Caterina Mocenigo was from a well-regarded Venetian family, and her wedding cassone houses a number of lovely items once hers. She wore this headware in honour of the Queen of Cyprus, whose funeral procession was one of the largest ever seen in La Serenissima.
I had wanted to make a small head roll and veil for some time, but I wasn't inspired until I saw a Bellini painting (ca 1500) of Caterina Cornaro, Queen of Cyprus. Rather than a plain roll, Caterina sports a black, white and gold one, variously described as brocade or embroidered. The roll is securely shoved down over a closely fitted cap made up of what looks to me like alternating bands of lace, or possibly lacis in net. (Partridge, in the Art of Renaissance Venice, pg 96, describes it as damask.) A coronet crowns the whole ensemble. Underneath are two very fine gossamer black veils.
I liked the idea of a decorated roll, and of multiple parts to the headwear allowing different looks. Another painting of Caterina appears to show a similar roll (or possibly a cap?) worn much further back on her head with a different veil beneath. (One thing I learned when researching this was the assertion that women wore their ears covered by veils to maintain chastity, this being the route the Holy Ghost took to impregnate the Blessed Virgin Mary!)
My head roll is in Sir Radbot's colours, being part of my consort ensemble. The roll bears one of our favour pins and is decorated with various findings and freshwater pearls. The accompanying veil is silk chiffon, chosen for its sheerness and drape. The edges were stabilised with starch; Master William de Wyk demonstrated how to extract starch from a heavily kneaded flour and water dough. Ironing a starch-dampened edge onto brown paper made it a lot easier to cut a straight line and to press a fold into this uncooperative fabric.
The black ribbon and pearl earrings are modelled off the ones worn by the Lady with Squirrel by Montemezzano. At May Crown LIV, I added to my collection with a lovely pearl-based necklace and earrings, a consort gift provided by the Darton event steward. Classy!
Torse and Lambrequin
From this roll, I went on to make a matching one, or rather a torse with associated mantling, to match the item for martial activities that was Gubbins 10 Is this a dagger I see before me?.
I felt it my duty to help my consort present a good-looking corpse..er..combatant on the Field of Mars and so decided to make him a torse and matching lambrequin to adorn his helm and make it easier to identify him, alive or dead.
The torse and mantling are commonly depicted in heraldic illustrations, the torse being a twisted roll of fabric holding the billowing drapery of the lambrequin or mantling. German Wappenbuchs (rolls of arms) show the use of torse and mantling in heraldry; illustrated manuscripts such as the Nuremberg Tournament and Parade Album show knights riding into tournaments with torse, mantling and crests.
Both torse and mantling reflect Sir Radbot's livery colours of argent and sable, with references to his rat charges in the form of a number of small metal rat charms on the torse and rat dagging on the mantling. The torse is a general match to my own consort head roll, and has a long tail of silk, as seen in the Schembert Carnivals.
Coronet and Chapeau
When Sir Radbot was made a Court Baron at Midwinter Coronation, I figured I could make him a modest wee coronet as a Christmas gift. So a batchload of metal rat charms, six large freshwater pearls and assorted smaller ones, and one black leather belt later...I've been told it's a bit pretty, but he has been seen wearing it, so maybe that's OK.
I had been pouring over the Schembert Carnival paintings, speculating on the possibility of talking Radbot into considering a garb upgrade. I was a tad intimidated by the thought of constructing some very form-fitting onesies (no, really, take a look here!). But I figured I could manage one of the hats. I was helped out by a hat blank and borrowed milliner's gear from our talented hatter Margriet van Middelburg and the hard work of Vigdis Svínahildardóttir, who pummelled the thing into shape over the better part of a day.
And, of course, more rats had to be added, this time in the form of a rat king peering over the top edge (a rat king being a bunch of rats whose tails have moulded together, possibly apocryphal though there are period references). These rats have their joined tails securely fastened with a shield bearing Sir Radbot's arms. The thing looks quite natty, if I say so myself.
---
Lederwams
For a number of (apparently mostly random) reasons, Sir Radbot is vaguely lateish period German, so I started taking a look at things like the Schembert/Schembart Carnival costumes and Landsknecht items.
The Landsknecht lederwams caught my eye -- a form of wrapped leather vest, patterned by draping on the subject; I figured I could manage that! As it so happened I had some large pieces of black soft upholstery leather that had been fermenting in the fabric stash for a decade or so...Thus ensued much poring over a very helpful website, fiddling with a calico toile, pinnage, sewing, repinnage, actual cutting of leather and then some modest slashing.
Given sewing is really not my thing, I was quite pleased with how it looked, specially with the addition of Master William de Cameron's custom-aigletted leather lace. (I just have to make sure Radbot doesn't stand next to the splendiferous slashed leather vests worn by Master Nicodemus and His Excellency Grim!)
---
Garb for katherine
I figured it was my duty as a dutiful consort to differentiate katherine, the consort, so began to work on some suitable livery to match Sir Radbot's. Fortunately there was quite a bit of black and white material in my fabric pile for me to dither over. Lucky for me, while angsting about it, the lovely Ginevra gave me a beautiful warm black loose gown, just the thing for a late autumn in Darton. I ended up staying in it for most of the event, though for the tourney I added my rat-embellished skirt for some extra warmth and amusement.
Later, I researched a new bodice and settled on one of those partially closed Italian tabbed jobs; I thought it might be easier to make. I used some salvaged lacings strips and stored fabric to produce something like a 1520s Venetian look (eg Palma Vecchio's Woman in Blue). The sleeveless bodice is black linen lined with green taffeta, deliberately double-sided for twice the utility; I have a number of black or white sleeves that can be attached. A black skirt made from 2m of bargain box Venetian brocade, kindly pleated by Ginevra, completes my main tourney outfit in Radbot's colours.
Tourney Girdle
To hold the loose gown together, I made a girdle, utilising the colours on my arms with triple groupings of beads of jasper (red), sodalite (blue) and freshwater pearls (white), strung on chain and separated by some ancient quatrefoil findings I had. I made them up to be useful, when separated out, as chaplets, and then combined the lot, twisted them to adjust the length (mostly right) and sewed them to a broad black satin ribbon casing a sturdy webbing for strength.
At the Crown Tourney's closing court (ASLIV), we presented a chaplet each to the new Crown Prince and Princess, noting that the beads represented the red lands of Terra Rosa, the white clouds and snows of the Crescent Isles, bound together by the blue skies and waters that joined us as one Kingdom.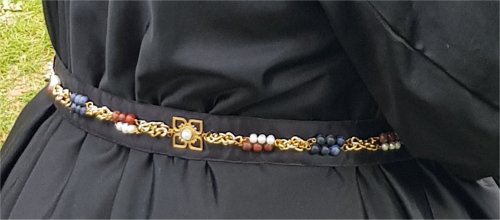 Photo: Isabell Winter
Since then I have endeavoured to wear the girdle whenever I attend upon Sir Radbot at tourney.
Tourney Favour
Sir Radbot, likewise, tries to remember to carry my favour in the lists. The favour is in the form of a length of green taffeta -- known in certain parts as "katherine green" -- with gold fringing at the ends. The fabric bears a gold-painted kk sigil, with embellishments and, on formal occasions, is fixed in placed with one of our fancy favour pins (not worn when fighting).
Am I evil to have been pleased and amused at one tournament when my knight confessed he had forgotten his white belt but had remembered my favour...
---
Rat Stuff
Death of Rats, Tray and Tableware, Ratbags and other Embroidered Items
Death of Rats
In the run-up to May Crown ASLIV, I began collecting a variety of rat-based items: charms, stickers, silhouettes, rubbery beasties and the like. The latter came in black, white and grey, and were duly distributed around the food table at the event. But I reserved one of the black ones to make a little Death of Rats, complete with scythe, gown and full-caps SQUEAK!.
If you don't recognise the reference to Discworld's Grim Squeaker, explanation here. Oddly enough most SCAdians have recognised him straight off, but not one has commented that he is full-bodied, rather than skeletal. Sadly, there was a distinct lack of rat skeletons at the Halloween sales (though there were spider skeletons? really???). I did pick up a skeletal cat lawn ornament, which has had the occasional outing with the Death of Rats sitting on top -- medieval cat-and-rat marginalia includes images of rats riding cats, sometimes "hawking" with a snail held aloft on an up-raised paw.
I deployed the Death of Rats after our first May Crown Tournament and, when at the Feast, made the mistake of sitting him in front of the new Crown Prince (yes, the one who'd killed Radbot in the finals). His Highness scooped the Death of Rats up with a triumphant "I'm taking this home!". Oh well, it was nice it was appreciated. Death of Rats V2 has since made an appearance, now with a built-in brooch pin so he can ride securely on my shoulder. SNH SNH SNH!
Tray and Tableware
For the Baronial Heraldic Challenge I made a number of things marked with Sir Radbot's device or rat charge.
Ratbags and other Embroidered Items
For the Gubbins 7 Challenge, 'Fore God, you have here a goodly dwelling and a rich, I made a set of embroidered linens.
I have promised to be a generous consort to Sir Radbot von Borg and, on learning that he lacked suitable items to bring to table, I began work to rectify that.
I made a ratbag and ratkerchief, to go with a feast kit set (a rat-marked market wallet, trencher, cutlery roll, bag and napkin) I presented to Sir Radbot at Coronation. The kerchief is of linen with a simple lace edging; the bag is linen with ties in his livery colours. Both bear an embroidered rat as a charge from Sir Radbot's arms.
---