Crown - A Rat and a Cat Consort
Bond of Manrent and Letter of Intent
Rat Heraldry: Banner, Mini-Flags, Pennons

[Consorting Garb] [Rat Stuff] [Consort Correspondence]
[A Fateful Trip: the Alternative Timeline Caribbean Voyage]
---
In ASLIV, Sir Radbot von Borg and I agreed to consort with each other so as to enter that year's May Crown Tournament, being held in Darton. Thus began a whole new phase of magnificant obssessions....
---
Bond of Manrent and Letter of Intent
I've been intrigued by the Scottish contract form of the bonds of manrent, having read over a large variety contained within the Black Book of Taymouth (Innes, 1855). So they seemed a good model for the agreement between Sir Radbot and me. I duly scribed a version based on the WirWenzlaw font by Pia Frauss (very close to a 16th-century Scottish hand), and gussied it up with a painting of our respective arms and a large Cadell capital B, ready for signing.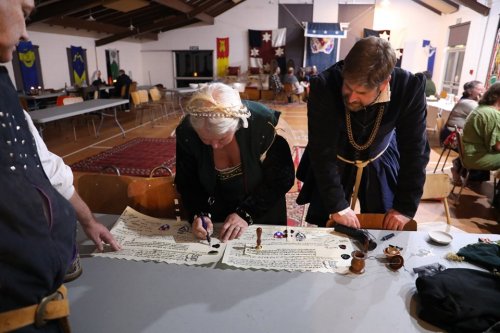 Photo: Isabell Winter
The Bond wording was quoted in our Letter of Intent, the communication typically required by the Crown from those planning on entering a Crown Tournament. Ours was presented in a suitable font (as it was sent electronically) and worded thusly:
Unto Their Most Puissant Majesties of Lochac, Felix and Eva, do Sir Radbot von Borg and Mistress Katherine Kerr send loyal greetings.
Know that it is our intent to participate in the Crown Tournament of May next, non nobis sed pro Regnum et suo gloria. To that effect, we have drawn up a Bond of Manrent in the Scottish style between us, to be signed and witnessed at the aforesaid tourney. Viz:

Be it kend till all men that this Bond of Amity Maintenance Protection Help and Supply is appoyntit and agreit betuix the honourable perties undervvreittin, That is to say, betuix ane noble and mychti Radbot von Borg knight on that ane pairt and tha wyse and virtuous Katherine Kerr of the Hermitage baroness on that uther pairt in manner following.
That is to say, forasmekle as the pairties are in bond that luife and favour suld be and contenew betwex the housis of the Borg and the Hermitage and so thereto the sayd Katherine promissis faithfullie to be to the said Radbot ane dutyfull and generous consort and a trew and constant friend. And for hys pairt, the aforesaid Radbot promissis to do his dewtie to Katherine in all thingis according to the custome and conditioun of ane honorabile knight. And that within this bond sall they assay tha lysts in hope of gaining tha Crowne na for thir owne advauncement but fa tha betterment of tha Kingdome of Lochac.
At tha Crowne Tourney in Darton being onne the xith day of Maie the yeir of the Societie fifty and four. In witness herof to thir Indentouris Radbot and Katherine hath affixt their selis and hand writ befoir sich witnes as hav signed belo.
The aforementioned bond is in the form of an Indenture, to wit two copies heading each other such that once signed they may be cut apart for each party to hold in remembrance of our promised duties. We humbly ask that Your Majesties consider doing us the honour of signing your names in the chirograph cut-space between the copies to add the weight of Your Regard to such a document.
As always, we remain in service to the Crown and Kingdom of Lochac,
Sir Radbot von Borg, KSCA Baroness Katherine Kerr, OP, OL
As noted in the bond and letter, we took the contract to the Darton May Crown Tournament for our signatures and seals. While a period bond of this type would typically have 3-10 witnesses of note, I wanted anyone to feel they could participate in this, so all present were invited to act as witness; forty-one did so. Their Majesties signed the chirograph, writing In recognition of a firm bond Eva Felix. That area was cut in two for our separate copies.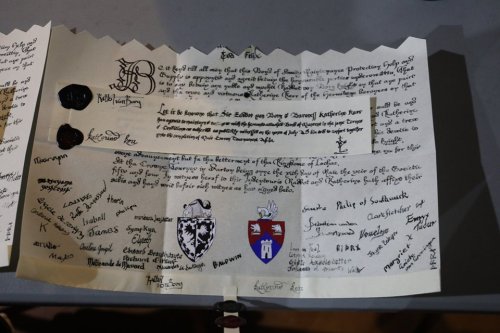 Photo: Isabell Winter
First Amendment
At the July baronial monthly tournament following May Crown, we presented our bond to the Baron and Baroness, attesting that we had each lived up to our terms, albeit the ultimate prize had been missed by a rat's whisker (Sir Radbot was runner-up, the Champion of Lochac). It was noted that the wording of the contract was ambiguous, in that it failed to state which Crown Tourney was covered by the terms. And so there was some discussion as to whether we would continue to consort, resulting in an amendment, duly signed and sealed at July Coronation and attached to the original bond, which said:
Let it be knowne that Sir Radbot von Borg & Baroness Katherine Kerr hav agreeit to maintayn & continew with the hereunto attached Bond of Manrent in tha same termes & conditions as subscribed as publickly witnessed on the nones of July ASliv and to consort together unto the completion of Maie Crown Tournament ASlv.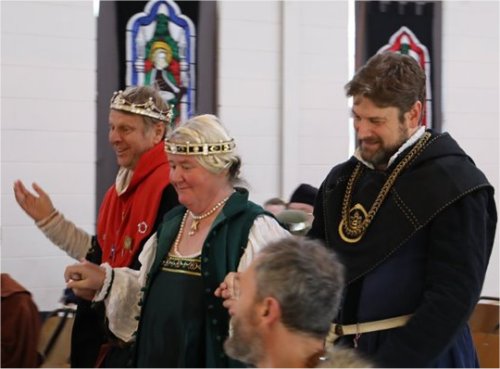 I am escorted by my lord-husband, Baron Bartholomew Baskin (L) and my lord-consort Sir Radbot von Borg (R). Photo: Isabell Winter
I had surmised that period contracts would have extensions and assumed these would be cut and sealed onto the originals or sewn together. So I was pleased to find actual examples of contractual amendments being sewn to the original documents or tucked into the page turn-up and sealed in place. One which demonstrates parchment and paper amendments sewn to an original indentured deed covers a conveyance concerning the sale of land in Stratford in 1611, involving a member of Shakespeare's family.
And there's a brilliant water bond issued by a Dutch water board in 1648 to fund their waterworks. The bond is in perpetuity so is smothered in payment updates. Yale's Beinecke Library ran into the difficulty that they couldn't release it from their collection but payment was due -- fortunately, once space ran out on the original parchment in the 1940s, someone attached a piece of paper as an addendum. In 2015, a library curator was allowed to detach the paper slip and go to the Netherlands to present it and bring back the 136EUR in interest owing!
Non Consummatum and Second Amendment
The best of intentions notwithstanding, our first amendment failed to bear fruit, due to the postponement and then the cancellation of May Crown LV (because COVID). I penned a brief notice to that effect on the talon:
FINIS EST SED NON CONSVMMATUM
This Bond of Manrent finished its term without completion through no dishonour of the parties by reason of the Great Plague.
Our B&B duly signed it as witnesses, I added a paper-embossed seal of the Southron Gaard tower. I cut through one part of the amendment with chevron-slashes and struck out another section with pen strokes, both measures used in period to note a void document.
Ratbot and I then agreed to remain hopeful of contesting Crown, but that it might take some time, so we added yet another talon, this time tucked into the page turn-up and signed with our initials. My seal tag is made of real parchment, with the tag looped through a vertical slit as per period practice. I was trying to get the same effect as on a number of period documents I have, but couldn't get the wax to build up into the exemplars' distinctive pebble shape. More research....
Here is the wording for our second amendment:
Know all people to whom these presents shall come we Sir Ratbot von Borg and Baroness Katherine Kerr in this Indenture hereunto signed sealed and named are to continue with this Bond and all its Terms and Conditions as heretofore agreed And seeing that the Life of Man is short and Death sure and the houre of Death unsure as is the time and place in which this Bond may be consummated by reason of the Great Plague therefore this agreement is to hold good unto the end of anno societatis lv.
So the extension takes us as far as April 30 AS55/2021 which may be long enough to take to the Crown Tourney field once more...or not.
Second Letter of Intent
I think we can all agree that 2020 was not a typical year. May Crown was cancelled due to COVID, then the July Crownanation backup, then November Crown...all the while Their Majesties Theuderic and Engelin sat upon a lonely throne. In November They called for Letters of Intent to enter Twelfth Night Crownanation in January 2021, to be held in the Continental lands. It seemed highly unlikely that Sir Ratbot and I would be able to make it without sitting through two weeks of expensive quarantine on our return, but we figured we could show our interest with a letter, even without our presence.
This second letter is Germanic in inspiration, based on the Wager of Law concept where seven people of rank (Eideshelfer) would swear that the oath taken by an individual was pure. In this case, we had seven Barons and Baronesses witness it, though none swore on their swords or cattle as the Germans did.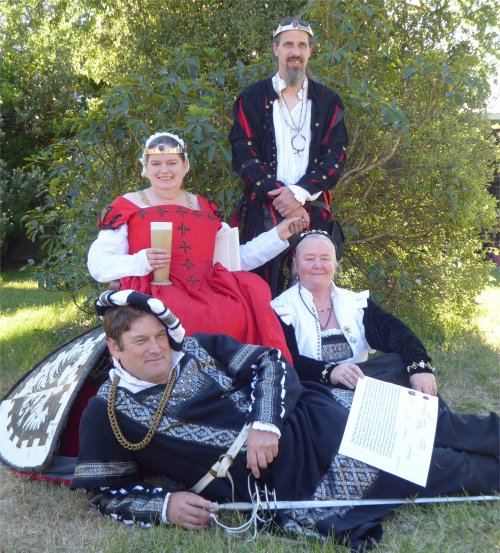 Their Excellencies Grim and Alexandra, Baron and Baroness of Southron Gaard, were amongst the baronial witnesses for our Wager of Law.
Your Most Gracious Sovereign Maiesties who have blessed the Kingdom so long with Your presence Know that we have heard Your Call for Succour Peace and Release, even in these lands so distant from Your Court.
Know that we, Radbot von Borg, Ritter knight within Your Realm, and Katherine Kerr, Freifrau Baroness, would most happily Freudensprünge should we be able to tilt for the Crown of Lochac and seek to relieve You of this Heavy Burden should the borders be opened in goodly time and manner and the Meerwunder remain peaceable to allow passage across the seas. We swear we are of good standing et gentle birth and that our claim to the throne will be made in lawful fashion without recours to Enchantments, Bribery or any other Evil Means. And that You might know us to be pure in our intent here as witnesses are our Eideshelfer as oath helpers of good name et rank in the anciaunt style under the freiem Himmel mit gesamtem Munde speaking with one mouth and laying their sign or seal thereto and swearing upon such items as they may see fit to make this oath whether by weaponry or cattle, rings or relics, as each holdeth dear.
So announced signed and sealed within the lands of the Barony of Southron Gaard on the Eve of Albertus Magnus, AS55 during the Long Reign.
The letter uses a number of terms from Germanic Common Law, technically some centuries earlier than Sir Ratbot's period but even 12th-century legal practices tended to have long legs. Swearing "under the free sky" (freiem Himmel) was a thing, and seemed appropriate for a statement being witnessed at a camping event. Freudensprünge are "joy jumps", recently reported as common – and surprisingly sophisticated -- behaviour in rats playing games of hide-and-squeak (yes, really!).
One early use of the Wager of Law (otherwise known as compurgation) dates from 899 when Queen Uta of Germany was acquitted of adultery thanks to 82 knights who swore to her chastity. In early criminal trials, compurgation did not speak to the facts of the case, but to the credibility of the oath-maker (aka accused) and their believed incapacity to commit the crime concerned. This approach clearly had some problems, which were ultimately addressed through the development of the juror system, but it was practised in England and its colonies through to the 16th century for criminal cases, and to the 19th century in civil courts.
Appropriately enough in our case, a Wager of Law tended to be followed by Trial by Combat….
Ratbot's Score-Card, or Jousting Cheque
My copy of our Bond of Manrent has an extra addition in the form of a jousting cheque-style record of Sir Radbot's wins and losses at the Crown events (regius ludi equester; tourney and coronation); as well as as list of his attendance and placings at our monthly baronial tournaments and local events.
I've kept the entries in my bad Latin, noting the Feast Days and dates, cancellations or non-attendance and the occasional tourney prizes I have had as attending consort (Master Brian di Caffa makes beautiful tokens for this purpose; I have an "enamelled" Lochac populace badge now attached to my consorting fealty chain).
The script is a suitable secretary hand with sepia (squid-derived) ink, using a dip pen.
The score-card also notes the various honours that have accrued to Ratbot -- his second placing at May Crown LIV saw him become Champion of Lochac, and he was also awarded a Rowan (for courtesy) and a Court Barony. The cheque also has a couple of tokens attached from the Rose Tourneys he has fought (I get the first rose, then he spreads the joy).
When Lady Gisle became Sir Radbot's squire, she produced a beautifully illustrated indenture containing their oaths (and with much rattage). It was good to see another contract in place, though I'm still trying to find out more about one reference I saw to "squire's bread" or panem ad armigerum, used to pay one's varlets.
---
Rat Heraldry
At a Darton Christmas gift giving, I was fortunate to receive a lovely wall hanging by the very talented herald and artist Fiora Vespucci, a copy of a 14th-century marginalia of rats storming a tower with a cat atop hurling rocks down upon them (BL Harley 6563). I had it hanging in the Green Man and it caught Sir Radbot's eye...so there we had a libretto theme, of sorts, which we could play with. (Though it should be noted for the record that I am definitely a dog person; still, one must make sacrifices.)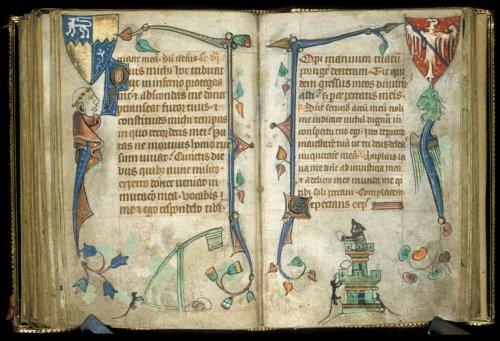 Some research showed that the cat and rat motif was one of a series of marginalia through the British Library manuscript: rat firing catapault, cat on the ground under a large rock, spear-hurling rats, rats cheering on top of the tower. The more I looked, the more I found these guys throughout borders and bestiaries, sometimes the cat winning with a smug look on its face, its jaws wrapped round a dangling rat. They seemed to be a thing for at least two centuries or more.
Tournament Banner and Setting
| | |
| --- | --- |
| | Photo: Sir Sebastian |
So the wall hanging inspired a decidedly large banner version in the style of the manuscript, containing our arms with references to our SCA peerages. The initial letters incorporated the MS formats with some subtle anachronisms: Radbot's includes his portrait and some Fibonacci spirals; my k embellishments look like 15th-century scribal doodlings but is in fact the exploded DNA from a plasmid attacked by a bacteriophage (I've always wanted an excuse to use that image!).
The flowers are also from the original MS, with two bluebells for Radbot's children and three acorns for mine, as is my usual practice. My margin also has a white rose and a thistle to represent my York/Venetian and Scottish persona heritage.
The motto down the bottom non nobis sed pro Regnum means not for ourselves but for the Kingdom. I was thinking of the lovely Patrick Doyle music from Branagh's Henry V and we used this as part of our entrance onto the field at Crown.
And all over the margins are rats and cats, scurrying about their business.
The banner was a tad large, mainly because I drew it for the size of material I had. But that presented a problem for a Darton event, in a place well-known for its wind. I ended up building a strong support of scavenged clip-together tent poles, held in place with a PVC plumbing T-bar; two heavy elastic cords from the bottom corners were guyed into tent pegs in the ground; and then it was duck-taped to the seating form. It stayed up!
Mini-Flags
| | |
| --- | --- |
| | Photo: Isabell Winter |
In the fore-ground of the accompanying photo you can see one of our mini-flags, which had our arms on either side. I made around 60 of these and we stuck them all around the lists field the night before the tournament -- purely to act as safety markers for guy lines and tent pegs and the like, of course! The joke was on us though -- when we came out next morning, the glue had released and all the flags were at half-mast...not a good look.
Bartholomew, bless him, went round with black duck-tape and made them perky again. Spares were given to the many supporters in the crowd and I am told they were fervently waved when we were heralded enthusiastically onto the field by Master Llewellyn channeling his inner Chaucer.
The photo also shows the hem of my skirt (the skirt is actually "katherine" green, but I turned it inside-out for the white satin lining), with its orle of sticky rats running around the edge.
Pennons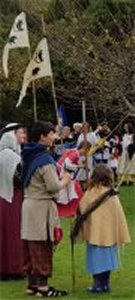 Photo: Isabell Winter
Having made the banner, I set to to make something a tad more portable. At May Crown ASLIV, I had a whole batch of vinyl stick-on rats, which went around the hem of my skirt (to match Sir Radbot's orle of rats courant), on various walls and doors at site, and on small pennons carried as part of our Finals Entrance.
The entourage included the pennons, a young rose-petal strewer; representatives of the four peerages and the Company of Archers, which included people from all the official groups of the Crescent Isles, carrying the various combatant symbols (ie sword, rapier, shield) and wearing a range of black-and-white organza sashes; with the end brought up by some very melodic ladies singing our version of Non Nobis Domine. It was a nice example of applied heraldry and then some.
Further research after that event provided inspiration from yet another example of cats and rats consorting together, in the form of a 1610 emblem by Sebastian de Covarrubias Horozco, representing a world turned topsey-turvey.
Anda agora el mundo tal
que no se cual va tras cual
It's upside-down! Now, who can say
Who's the chaser, And who the prey?
I prefer to think of a contemporaneous adage which warned that "when the cat and the rat join forces, the farmer should beware!"
Painted flags and pennants were commissionable items, as Cennini mentions in The Craftsman's Handbook. Bamboo skewers, strategically placed in a narrow lower casing, keep the flags flying. Elasticated breakdown tent poles, with an angled sharp end, make for a very lightweight piece of vexillogical art, transported in a black-and-white cloth baggie. They have proved useful at the Baronial monthly tournaments, being easy to transport and peg into the ground either side of my chair.
The re-vamped pennons were Entry 12 in the Gubbins Challenge, for an item of heraldic display under A garish flag, to be the aim of every dangerous shot. My persona comment for that was:
It is important, when taking to the field in a tournament for the Crown, that people know who is contesting. These pennants identify my contract with Sir Radbot von Borg, bearing our arms and a shared sigil.
Other heraldically inspired items or projects can be seen on the following pages:
Rat Garb
Rat Stuff
---