Banners and Standards
[Heraldic Achievements] [Festival Flag project] [Kingdom Flag] [Wars of the Roses and other Standards] [Banner Production] [Baronial Hangings]
[Baronial Banners] [Kings' Wall] [Bestiary Window Panels]
[Tent Valence] [November Crown Flags, Standards and Hangings]
See further info on other activities and other event-related stuff.
---
I've always liked heraldic displays and welcomed the opportunity to see more banners, flags and standards flying at events. The really big impetus came when Bartholomew noticed the small pennons on the large flagpoles at the first Rowany Festival we attended. How much better they would look, he mused, if they had some large colourful flags flying from them. We had various diplomatic activities under way as part of the following Festivals, and so the Festival Flag project was born....
The experience of the flag project bore fruit, with the development of a full-scale baronial project to encourage the production of standards and hangings for the Baronial Pavilion, as well as the production of a batch of baronial banners, the Kings Wall for Midwinter Coronation and bestiary window panels. Then I spotted a Kingdom A&S competition that called for banners in the style of the Wars of the Roses, and I couldn't possibly pass that up.
---
Heraldic Achievements
| | |
| --- | --- |
| | Scotland's first printed Act of Paliament, 1542, showing a full Royal achievement. |
After having done a large number of standards, flags, pennons etc, I decided I'd like to do something a little more full-on both heraldically and in terms of silk painting, so I decided to do a set of heraldic achievements for me and my lord. These would have the full array of heraldic panopoly, appropriate for our standing within the Barony of Southron Gaard and the Kingdom of Lochac.
I looked at a lot of heraldic material, online and in books, SCA and period, and drew up two designs which I thought captured a suitable blend of all aspects. Ironically enough, when given the choice, it was my lord who wanted a design based on a 16th-century Scottish achievement of James V (Innes, pg 213) used as a cover woodcut for the first printed Act of the Scottish Parliament in 1542. I liked the style used on the cover of Friar and Ferguson's Basic Heraldry book; although modern in style, the layout of a standard maintained by a supporter is one seen in many period rolls.
The final achievements ended up being around 1.2-1.4 m by 1.2 m. Both achievements were given a light purple background colour to help the various elements -- of which many were white -- stand out and to provide a cohesiveness to them when flown together with the SCA standard I had done earlier.
We took them to Festival in ASXLIV and pinned them to the walls of the sunshade, which got dubbed "the purple place", as the colour showed up from a long way off.
Bartholomew Baskin's Achievement
Heraldically speaking, this is fairly straightforward. The achievement has his arms, with supporters being a lion gules (awake at this point!) and the pegasus associated with the Kingdom of Lochac. The latter has a baronial coronet around his neck, from which depends a seneschals key, representing Bartholomew's service as a landed Baron and as Kingdom Seneschal. His helm is garnished in gold, as a fedual (Court) Baron, with a torse in his colours and crested with a pelican vulning, as a member of the Order of the Pelican. His motto is based on a sig he likes to use: never stop dreaming, for from such fragile things come miracles. His arms are flanked by those of the Barony of Southron Gaard and the populace arms for the Kingdom of Lochac.
katherine kerr's Achievement
My achievement is done in semi-period style although based on a modern rendition. Thus the actual arms are quite small, compared to the other elements. Technically I should perhaps have put the arms in a lozenge, but as a Scottish heraldic heiress I believe I could argue to have them borne on a shield; and it's SCA practice in any case, despite the period gender differences. Again, women were less likely to have helms as part of an achievement, so I decided to forego that for a cap of maintenance, a baronial coronet and a pelican crest. In the SCA, the cap of maintenance is insignia for members of the Order of the Pelican; according to Innes, an azure cap of maintenance was used in Scotland for those Barons "who no longer possess the baronial fief or jurisdiction" (pg 32). That seemed more than appropriate for my situation as both a Pelican and an ex-landed Baroness.
The standard bears the populace arms of Lochac, with the rose en soliel I use to indicate my connection with the Yorkist cause (see the Wars of the Roses standard I made earlier). It also carries my motto of Amor Omnia, a cant on Love All for Lovel, and a reference to the Shakespeare line: Love all, trust a few, do wrong to none (All's Well that Ends Well, Act 1 Scene 1). The supporter is a Lovel hound, bearing the coronet and chain of service -- the dog can be seen on the crest of Francis Lovel's Garter Stall plate (I got a long close-up look at it when visiting the St George Chapel). The hound is depicted on a compartment, which is a typical feature of Scottish heraldry (Innes, pg 39) often assigned as feudal honours; in this case there are Scottish thistles scattered upon the mount as an informal plant badge.
References
Innes of Learney, Sir Thomas; Scots Heraldry Oliver and Boyd, 1956
Friar, Stephen and Ferguson, John; Basic Heraldry; Herbert Press 1993
---
Festival Flags
The flagpoles at Festival needed suitably sized flags on them. Some research and a good deal of thought later, we asked the Rowany Fighter Auction Fund to assist the purchase of materials -- silk and dyes -- to produce six large flags covering the main parties involved in the diplomatic action at the upcoming Festival (AS40).
The three Crescent Isles groups involved pledged to undertake the production of two banners apiece, as follows: the Barony of Southron Gaard: their own and the Royal Flag; the Barony of Ildhafn: their own and that of the Barony of Ynys Fawr; the Shire of Darton: their own and that of the Barony of Rowany.
Mistress Roheisa was instrumental in developing the design template for the SG flags, and she and a number of others were involved in the actual production. The flags looked great and, at 2.24 metres square, were rather impressive when floating on the breeze. We'd combined two lengths of the silk to get the size.
---
Kingdom Flag
The initial Kingdom flag was given to the Barony of Rowany, so I decided that Southron Gaard needed one of its own. And it couldn't be smaller than the baronial one. So I used three drops of silk to make a 3.48 metre Kingdom flag. In some respects, that turned out to be easier as it meant I could fit the full image of the crown on one length of fabric, instead of having to match it up across two lengths. Now if I'd just remembered to take enough silk dye to the rural venue where I was doing all the work....got it done in the end, thanks to the ever-helpful Lady Anne de Lacy (nka Cecily de Montgomery) and her lord Godric of Twynham and a mad dash to get more red dye. And the flag looks great, biiiig, really, really biiiiig.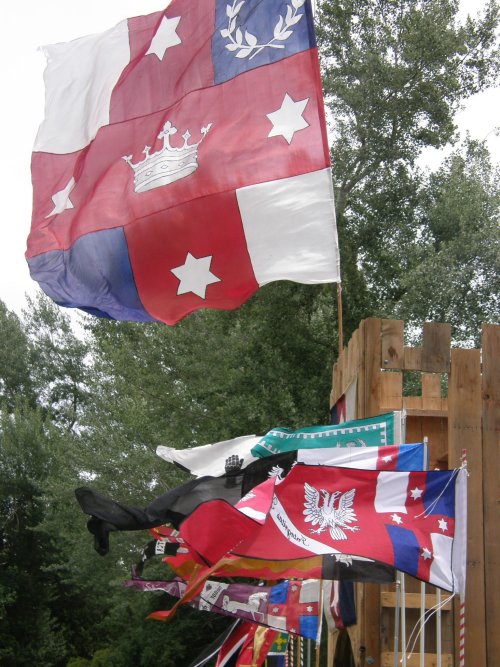 Here is the Kingdom Flag at November Crown, partnered with the combatant standards.
---
Bestiary Window Panels
I wanted to find a way to dress up the Feast Hall at Canterbury Faire to make it a little less mundane. There were two tall windows at the end which had housed the high table, so the thought of stained glass windows sprang to mind. It was but a short step to contemplating what kind of silk banner would work there, as it would serve as a window when the sun shone through and as a painted backdrop when it became dark -- two for the price of one!
I decided to use the images in Richard Barber's Bestiary as the basis for a batch of banners. This work is an English version of the Bodleian Library, Oxford M.S. Bodley 764, and has all manner of creature in a nicely primitive style which I figured I could readily copy.
Naturally the Tower of Southron Gaard would have to figure in one, and it follows the same form as the rest of the Bestiary artwork in having the rather Seussian trees and ground. It also includes a crescent moon for Caid and the Southern Cross for Lochac (technically these should be left to right to signify the shift from one Kingdom to another, but the photo shows that on this occasion it has been hung back to front. I must speak to my Court Vexillologist....).
The other three panels cover our relationships with other groups. The lymphad being attacked by a siren refers to our dear cousins of Ildhafn, and the fact that everyone on board is asleep is no commentary on that fair Barony, honest! (I keep having to note that the siren's very droopy breasts are exactly as the Bestiary depicts her). The phoenix is in reference to our former College of Rheannag Faire, and the swan stands for Ordo Cygni.
---
Wars of the Roses and other Standards
A Kingdom A&S topic (12th Night AS 42) on A Banner in the Style of the Wars of the Roses inspired a quick decision to make a standard based on the Royal Standard said to have been borne for Richard III at the Battle of Bosworth in 1485. The design came to me straight away on seeing the competition category, the research, design and production were all completed within one week!
The main elements of the standard, and my chosen deviations from them, are as follows:
Richard III's Royal Standard
St George Cross
White boar
White rose en soleil (1 large, 5 small)
Antler charges (?) in the fly and livery fringing
My Standard
Kingdom of Lochac populace badge
Lovel dog
White rose en soleil (1 large, 3 small)
Not used
The change of flag in the hoist is to match SCA usage, identifying to which kingdom I hold allegiance.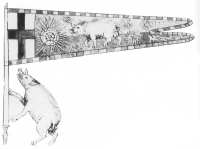 This artwork is cited in Lander as from BL MS Harley 4632 fo 242.
I replaced the white boar of Richard II with the Lovel cur - my persona's grandfather was Viscount Francis Lovel, Richard III's Chamberlain and lifelong friend. The Lovel dog is taken from Lovel's Garter Stall plate (Stall 18, N.17) in St George's Chapel, Windsor (Lander, pg 202). It is blazoned as "a silver wolf-dog having about his neck a gold crown and chain" (Friar & Ferguson, pg 69). Occasionally the animal has been termed a wolf, with reference to the name "Lovel" - or Lovell, Luvel or Lovet - having been derived from Lupellus or "little wolf". According to personal communications in 2004 with Tamara Thornhill, then-Acting Assistant Archivist of the St. George's Chapel Archives & Chapter Library, there are good grounds for considering the stall plate to be the original one dating from 1483/4, despite the fact that Lovel was "degraded" in 1485 following the Yorkist defeat at Bosworth.
References
Cambridge University Heraldic and Genealogical Society
Everything you wanted to know about Heraldry: transcript of a talk given to CUH&GS; 12 Oct 2006
Author unclear, but likely to be Henry E. Paston-Bedingfeld Esq., York Herald of Arms
Cennino D' Andrea Cennini; Il Libro dell' Arte (The Craftsman's Handbook); trans. Daniel V. Thompson, Jr; Dover, 1933
Company of St Luke (Destrier Silks) Instruction Manual (PDF)
Dictionary of Vexillology, Flags of the World
Friar, Stephen & Ferguson, John; Basic Heraldry; The Herber Press, 1993
Fox-Davies; A Complete Guide to Heraldry; Bloomsbury Books, 1985
Gordon, Barbara; "Whips and Angels Painting on Cloth in the Mediaeval Period"; Pacific Association for Recreating the Middle Ages
Lander, J.R.; The Wars of the Roses, Guild Publishing, 1990
Neubecker, Ottfried & Brooke-Little J.P.; Heraldry Sources Symbols and Meaning; Tiger Books International 1997
Painting a Silk Banner for an Achievement, Lady Dairine mor o' uHigin and Mistress Morgana
Pollard, A.J.; Richard III and the Princes in the Tower; Allan Sutton 1991
Wilson, S.C.; The Barony of Hawick and the Lovell Family; Hawick Archaeological Society Transactions, 1932
To Prove a Villain Exhibition at the Royal National Theatre, London; March 27-April 27, 1991
Caption 5. Tudor Ms. representation from Prince Arthur's Book (College of Arms)
For purely practical reasons - the ability to enlarge a graphic file of reasonable resolution to the required final size - artwork for the body of the dog was taken from a Lovel coat of arms presented on the Cambridge University Heraldic & Genealogical Society Website. Their citations are unclear, but it may be that this artwork came originally from Stephen Friar's A New Dictionary of Heraldry. In the very limited time available, I have not had a chance to check out this source; nor gained a response from the CUH&GS regarding the provenance of the artwork and clarification of the citation. I would think, from the style of the representation, that this artwork is recent.

The dog in the CUH&GS depiction differs in one significant aspect from the original Garter Stall plate representation in that it is more like a mastiff with floppy ears, whereas the original has distinctive pointed ears. Although the SCA College of Heralds appears to believe that pointy-eared dogs are not period (part of an on-going discussion involving my attempt to gain arms), I have nevertheless chosen to amend the later artwork to incorporate the original head shape as in Lovel's Garter Stall Plate of 1483/4.
Bear in mind that you may copy and examine things done by other good masters; that it is no shame to you.
Cennino Cennini
The white rose en soleil reflects two badges identified with the House of York and, in combined format, with Richard III as a personal badge. Coincidentally, the sun in splendour is the clan badge for my persona and a white rose is the main charge in the arms of my persona's mother's family. For design reasons I moved the position of the main rose en soleil charge to follow the dog, as the latter, being largely vertical, was best placed close to the hoist for maximum proportions so as to achieve heraldic balance in the elements of the standard; Richard's horizontal boar allowed greater flexibility of placement.
I suspect that the original standard was considerably larger than mine, hence had room for more charges and fringing. In Southron Gaard, a standard is to be 2.5 Baronial Girths, equivalent to 224cm in length; it has a width of 64cm at the hoist, narrowing to 32cm at the fly. I have chosen to use three small roses en soleil for balance and the fact that I tend to use triple elements as a reference to my children. One variant of Richard's standard shows one large and two small roses en soleil (Friar & Ferguson , pg 69).
The actual sun artwork, with its mix of straight and curved rays, differs slightly from that of the original MS, and is one I have used before when making a Yorkist-based table runner. However, it is consistent with sun artwork used to denote the York Herald (Friar & Ferguson, pg 75), which seemed appropriate.
Although the Harleian artwork is depicted in black and white only, the field in most representations is presented as divided azure and gules (eg Neubecker, pg 118; Friar & Ferguson, pg 69; Dictionary of Vexillology). In fact, Yorkist livery was azure and murrey. To cite one reference among many, the 1991 To Prove a Villain exhibition at the Royal National Theatre refers to these tinctures in Prince Arthur's Book (College of Arms) when blazoning Richard's standard. Lovel's own standard, as depicted at the Richard III Museum in York (Fig 4) is shown in azure and or. I dithered and eventually chose to use azure and gules, being two colours in the arms of my Barony and its College and Canton.
Afterword
Got very positive comments back from the judges on this one -- they really liked it. What they didn't notice, and I didn't think to check, is that the College of Heralds has declared the rose en soliel to be a reserved charge, as it implies membership of the House of York. Oddly enough that's one I wouldn't have thought about -- white roses yes, sun en soliel yes, but not the combined one, even though I'd taken this charge from Richard's flag. Add to that having a dog gorged of a crown, and it really is a highly presumptuous standard. Oh well...
Other Standards
Here is a selection of standards that I have made, some as prizes, some as barter, some because I had a good idea. When I add in the various pennons, guidons and other types of vexillogical items, I was surprised to find that I'd done over 50 (shoulda been taking more photos...), and so could count this as a completed AS50 Challenge, huzzah!
I certainly learned a lot over the years, and it's been magnificent to see the huge growth in silk standards right across the Kingdom. OK so the weigt of the silk isn't right and the gutta approach is not a period one, but this approach has seen an explosion of use at events and they do add a lot to the feel.


Duke Aedward Staedfaeste's standard, with a ducal coronet in the Kingdom badge.


My lord, Master Bartholomew Baskin's new standard, with his augmentation of arms, granted by Their Majesties Gabriel and Constanzia for his exceptional service particularly the very extensive work done as Kingdom Seneschal. It seemed appropriate to modify his arms to depict his dormant lion as maintaining the populace (the augmentation being the populace arms of Lochac). As far as I know, this was the first Lochac augmentation to be registered. I have also managed to add the augmentation to his achievement shown above; thank goodness I didn't have to redo all that work!


Lady Grace Kerr's standard. I was surprised to find that a sable unicorn's head couped was a period charge -- surely it's too emo! (NB. The red tear and floppy fringe are definitely emo, but that's just artistic license...). I was gob-smacked to find it was actually a period charge and for a Ker no less! A sable unicorn's head erased is part of the arms of the Cessford Kers, according to Formans Armorial of 1563 (Ker of Sammuelstoun/Samystoun had Argent, a unicorn rampant Sable). My daughter wanted to use her standard to indicate that she was in her tent, so the design is in Scottish style with a motto: Gratia Plena, as in Hail Mary, full of grace; gotta love a child who can cant.


Lady Ginevra's columbine standard.


Lady Cecily de Montgomery's scallops.


A standard for Southron Gaard. Semper Guardant is my dog-Latin for "always watchful", utilising the barony's initials or, more informally, "long may she stand" (used as a populace response, the burden line of the SG anthem written by Crispin Sexi and, on one memorable occasion, used by a herald at the end of a Crown Tourney court in Ynys Fawr!).


A standard for Lord Emilio di Batista. The artwork of the rampant otter was done by Ronan mac Brian.


A standard for Lady Sancha da Sylva. Ermine, counter-ermine and Greek -- argh! The dragon artwork, by Ronan mac Brian, was taken from a necklace provided by Sancha.


A peerage standard, using the Service, Chivalry, Arts phrasing I had for the Midwinter Coronation toast.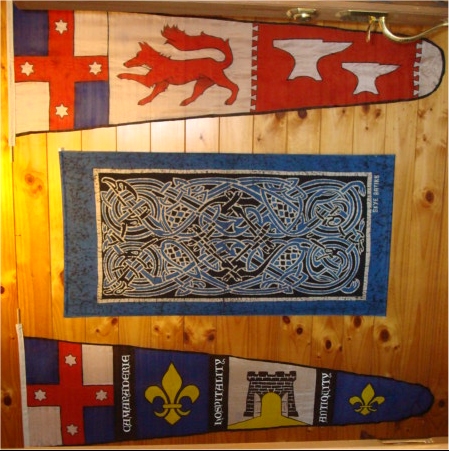 When the highly talented Edward Braythwayte was willing to swap a custom-made ballock dagger for a pair of standards, I jumped at the chance. His personal standard was to have his fox symbol, along with anvils and dovetails to represent his craft interests. The second standard bore fleur-de-lys representing his affiliation to Lord Baxton du Glonn's household, along with a tower open port, representing the welcoming nature of that household and its lovely people.

Three motto bands cited their principles of Camaraderie, Hospitality and Antiquity. The bands presented something of a challenge -- to get the reverse lettering desired I ended up painting colourless resist on white silk, which then dried invisible, and I had to carefully go round the outlines of the fine Lombardic lettering! I cursed a couple of times, but the result was gratifingly striking and I was well pleased with the result.
When Ildhafn hosted Midwinter Coronation in AS45, the ever-enthusiastic Mistress Katherina Weyssin and the cheerful Lady Caterine de Vantier asked if I could be bribed into working on some silk hangings for them, only a dozen or so. The initial plan was to do the history of Ildhafn in illuminated manuscript style based on a 15th-century Bible, which involved some pretty complex painting. I gulped, but then they mentioned they could possibly make me a dress in exchange...
Luckily for me, the project scaled down a tad, and ended up covering a batch of standards for Ildhafn, a set for their Canton of Cluain, and a pair of SCA peerage standards of the kind I had already done (see above). I suggested four each of the standards, as that would look nice at the corners of a list field. You can see them used in this fashion on this page of the Ildhafn Gallery.


The Ildhafn ones have that Barony's lymphad as repeating charges; doing rigging is almost as bad as ermine counter-ermine! But I think the choice of a white resist, rather than the more usual black one, was a good decision. I suggested having the final fly section divided into the Barony's chape ploye running per fess. This means when it is hung vertically, that section matches the basic division of the group's arms. The mottos were quite tricky as the length of some of them required some fairly fine script. Each standard had a different motto: Non quam diu sed quam bene (not how long but how well); servitus libera (willing servants); qui laborat manducat (he who works, shall eat); interdum requiescendum (sometimes we must rest). The latter had the terms reversed to fit, but the meaning remains the same (hooray for inflected languages!).


The Cluain standards have a bull's head, rather than the full animal. Cluain have used this in the past as an informal badge, and the head shows up very well. I was particularly pleased with the effectiveness of the white Fastex against the black dye, as that really punched the detailing out.


The two Ildhafn SCA peerage standards use the same script as the Ildhafn mottos, rather than the heavier script I used in the original. And the field was chosen to be an Ildhafn blue.
As part of our bartering for a pair of baronial coronets to be made by Master Edward Braythwayte, I offered to make him some more silk standards. He requested one for his good lady, bearing her arms, and one for the Wulfing household (a lovely non-SCA group who plays a lot in Cluain). The latter involved a period of intense discussion before I was able to come up with a design with the elements the Wulfings wanted which still met the general rules of heraldic usage and SCA traditions. The main sticking point was the symbol of the Wulfings' patron saint, St Eadmund King and Martyr -- the SCA has fairly strict rules in terms of who can display a crown. I figured we could mitigate this by using the ancient crown as worn by the Wulfings' reigning king (Richard II), rather than the Victorian Fox-Davies ducal depiction the SCA tends to go for. With that enfiled by the arrows of St Eadmund, all impaled on the cross of St George, it would be clear that this was not referencing SCA usage as such. At least, I'm willing to argue that.


The Wulfing standard with the Cross of St George, the badge of St Eadmund, and the charge and motto of the Wulfing household in the colours of their patron, Sir Alan de Buxhall.
Below are details of the initial SCA peerage standard I made, at that point the most compositionally complex one I had done, with illuminated capitals, and extensive shading and highlighting.
I've also made a large batch of pennons and pinsils for Southron Gaard, making efficient use of a spare square of silk. We gave most of the small pinsils, which bore Southron Gaard's tower and three stars, to our allies at Festival in AS40.
Tent Valence
And in AS49 I made a 3.8-metre long valence to decorate the side of the Green Man tent which hosted the output of the Potable Adventurers Companie. (See here for more on that). This was a simple rectangular decoration based on period examples. Mine centred on the tower of Southron Gaard, with a range of charges stretching away on either side -- a pelican, a knight's belt, a laurel, a lymphad, the Caidan cross, the Canterbury Cross, a pilgrim's scallop shell, a Yorkist sun in splendour and heraldic rose, and a fleur-de-lys, alternately in gold and silver. The acanthus leaf scrollwork had, as centrepieces, the populace badge of Lochac on either side of the central tower, then quatrefoils in blue and red thereafter. The whole thing stretches almost four metres long and is around 200 cm high. A set of grommets match the pole points to keep it nice and taut, and it looked great when it went up. A nice way to make an ordinary tent just that little bit more medieval.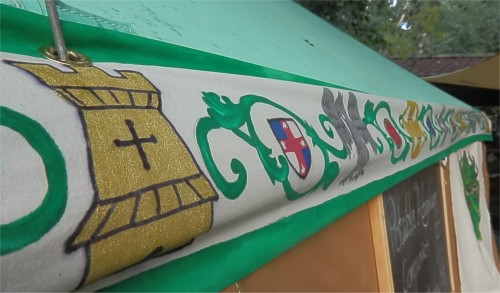 Half the length of the valence
---
Standards: Production Instructions
The silk we purchased was 112cm wide, which made it suitable for producing two standards of 2.5 Baronial girths (aka 224cm) from a length of cloth. Here is how I've gone about producing batches of standards, with tips and pointers that I hope will be useful for anyone else trying this.
To start with, here's what Fox-Davies has to say on the topic of standards:
The term standard properly refers to the long tapering flag used in battle, and under which an overlord mustered his retainers in battle. This did not display his armorial bearings. Next to the staff usually came the cross of Saint George which was depicted of course on a white field. (Kingdom badge or flag) This occupied rather less than one third of the standard. [Actually a fifth in all the examples he shows] The remainder of the standard was of the colour or colours of the livery, and thereupon was represented all sorts of devices, usually the badges, and sometimes the crest. The motto was usually on transverse bands, which frequently divided the standard into compartments for the different badges. These mottos from there nature are not war cries, but undoubtedly relate and belong to the badges with which they appear in conjunction. The whole banner was fringed with the livery colours, giving the effect of a bordure compony. The use of standards does not seem, except for the ceremonial purposes of funerals, to have survived the Tudor period, this doubtless being the result of the creation of the standing army in the reign of Henry VIII.
Before You Start
I prefer 5 mompe silk for standards, as it's nice and light and will float in any breeze. That does make it vulnerable to snagging - remove any rings when you're working on it! I have also used 8 mompe silk for indoor banners.
It's best to wash it to remove any sizing. Almost all the US references talk about Synthrapol, but I found a mild soap or baby shampoo was fine, so long as rinsed thoroughly. Iron with a non-steam silk setting.
Transferring the Design to the Silk
One of the major advantages I could see with making standards, is that they don't require registered heraldry. Nonetheless you'll still want to follow the accepted practices and design it with the heraldic rules in mind.
I made up a full-sized paper template, with the SG and Kingdom badges, and guide lines for dividing the field with a central horizontal line or with motto bands; you can also draw in a range of fly endings such as rounded, swallow-tailed etc. Then it's an easy matter to measure up and place full-size individual charges on the template ready for tracing the design onto the silk.
The easiest way to trace the design is to frame up the silk and drop it on top of the design pre-stretched, and pencil it on then. If you plan to flip the frame over at any point, don't forget to take that into account when it comes to lettering!
There are lots of silk frames available, all fairly expensive. After some consideration I got hold of second-hand Dexian shelving supports, which the supplier cut to size for us (approx 2400 mm x 1300 mm; you want some additional length over your standard size and width over your fabric size to allow for tensioning). They are bolted together with corner plates to provide rigidity.
Dexian is great, as it is perforated angle iron, which offers a lot of holes useful for tensioning via rubber bands and safety pins. It is also reasonably cheap: $40 got us enough Dexian for two large frames as well as the bolts and corner plates. I attach the silk to the vertical edge, as this gives me a flat surface on top, which is a lot more comfortable to rest your arm on, and it means you can drop it flat onto the design paper without the need to flip the thing over.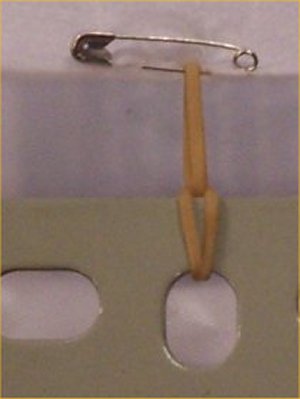 I use a large piece of whiteboard offcut, sourced from a recycle outlet, for a table, sitting on two trestles from an old table tennis set. It gets covered with plastic sheeting (a $2 shower curtain), and I use four old file boxes at each corner to control the height of the frame. When doing the resist, I've found that having the boxes lying flat gives me a chance to rest my elbow on the table, yet have the silk up high enough to keep the area I'm painting off the table; when dying large areas, I turn the boxes on their sides to lift the silk up higher to prevent contact.
I loop rubber bands (No 8 1.6mm x 22mm) through the holes along the Dexian's long edges -- the idea is to use a consistent size all the way to keep the tension consistent. You can use longer bands at the narrow ends to cover a greater distance, if need be. I use two bands at the corners bringing together to a single pin in the corner to provide balanced tension. I do the corners first, then the short ends and lastly the longer sides.
Ensure that the bands are at staggered intervals when looking across the frame - if you have them line up, you'll get a pull line in the fabric which affects the way the dye settles. You can adjust tension on the corners by using different sized bands, or changing the holes, or looping the rubber bands around the end to tighten. Depending on how much tension you want in the fabric (more is better when you're starting out), you'll want between 4-10 attachments along the long sides.
Safety pin size doesn't matter, as you're pinning at right angles; honking great big ones should be avoided as likely to make too big a hole in the fabric. Ones about 2 cm long were good. The safety pins are put through the fabric parallel to the frame, then through the rubber band loop, then through the fabric again. I've found it best to get the corners done first (ideally with two bands at right angles), then do every second band along the long edges. Buy reasonably good quality safety pins, as the $2 Shop ones are thick and blunt and will poke large holes in your silk.
The aim is to get the silk evenly tensioned across its full surface and ensure it does not contact the surface underneath it. Check the edge of the silk to see it's even. If not, add another pin at the top of the curved area to pull it flat. Do the ends first and get as flat an edge as you can. But don't fret too much, as the standard will always be seen in movement or draped in any case.
| | |
| --- | --- |
| You can easily see the design through the silk to trace it.. | Resist lines painted on (L); dye process started (R). |
Painting the Resist Lines
The resist lines are the black lines that outline the design - think of a colouring-in book (the resist are the lines; the dyes are your crayons). The dye is then brushed between these lines and held in place by them. I had assumed they'd have to be fairly thick, but experimentation has shown even almost see-through lines will hold the dye; however, it looks better if the resist is nice and dark. You do want to be sure that the lines all meet up or you will get bleeding across from one dye colour to another.
I use Fastex textile ink for the resist, as it is readily available (Warehouse Stationery, Bunnings etc) and very cheap -- the amount used in the Festival Flag project came to around $20 compared to the estimated $170 required to buy real silk gutta resist. The paint is quite thick and can be diluted with water to help make it a little easier to draw off the brush; not too much, though, or it will bleed across the silk. Around 100ml is usually enough to do a large banner. A 375ml jar is around $8. Black is the best colour to use, but the Extender offers a transparent option (bear in mind that painting a transparent pigment on white silk is hard on the eyes!). And you could use other colours to match the pigment dye choice if you want to avoid the stained glass effect.
It's good to keep to a consistent brush size so that the lines are the same width. Best to start with a smaller brush to assess what sort of width you are getting; use large brushes, or even house painting brushes, for painting on the dyes. Having a range is handy, specially when it comes to dropping dye into small spaces.
Some silk painters use bottles with applicator tips - that didn't work for me as it lays down too thick a line which took a lot longer to dry. A brush gives much more control.
Update: At May Crown AS45 I was admiring some particularly crisp lines on Master Nathan Blacktower's standard and his good lady, Mistress Catherine d'Arc told me she had used a rounded-off veterinary needle (25 gauge) with a 5ml syringe to achieve that. Clever lady! I tried a similar system, but my needle was a tad fine and the pressure required very hard on the hands. Then I tested a plastic sauce bottle. Unlike the applicator tip one I used previously (from a hair dye set), these bottles had closed tips, so you could control the size of the hole. A sewing needle provided a hole fine enough for control yet big enough to get the paint through without it being too blobby.
So you could try something similar. You want a plastic bottle that you can readily squeeze in one hand without too much effort, and a closed tip. I found a 100ml bottle a good size -- larger and your hand tires more readily due to the extra circumference. I found it wasn't as clean as using a brush for doing straight lines, but boy was it fast, especially doing curved lines and outlines of letters. You don't have to keep recharging, as with a brush, so the resist can be done very quickly. I suspect that having two tips, one with a larger hole for wider lines, may be a better approach in doing thicker linework than trying to go down the same fine line twice -- more research required.
So whether using a brush or a bottle, start from the centre of the standards and work your way out. I usually find it easiest to start by doing the long joined centre line, swapping sides to have the shortest reach -- anything you can do to reduce stress on the arm and back is good. Painting in reasonably short bursts helps. I tend to find if I've been at it too long my attention wanders, my hand shakes and that's when mistakes start to happen.
Check regularly that you haven't got paint marks on your hands or arms that could cause problems!
Be careful of a trampolining effect - if you're working with someone else, the fabric will bounce, so you want to be particularly careful when working on finer details. Same holds for draughts, open doors, pets....
If you do end up with blobs, have a couple of fairly wet (but not dripping) cotton balls, and hold it to each side of the blob. Dab it; don't scrub the silk or you'll be in danger of pulling it. And watch out for coming into contact with other areas of wet paint or dye.
Let the resist dry so that it is no longer tacky to the touch - this is likely to take a couple of hours. You can check easily by eyeballing it at a low angle -- wet paint shows up as shiny.
Prepare to Die..er..Dye
I assessed a range of dyes and fabric paints and pigments when researching the Festival Flag project, and decided to go with Dharma Pigments, from Dharma Trading. They also sell silk at very good prices -- we've used 150 yards of 5 mompe and 8 mompe habutai silk on projects within Southron Gaard, and sent a gift bolt of 50 yards to our cousins of Meridies following the major losses of Hurricane Katrina.
Dharma Pigments are a cross between dyes and paints. That means they are not as "aggressive" as dyes -- ie they don't gallop across the fabric and wrestle under the resist. To achieve an even effect, it's best to treat them as a paint. Paint with a brush up to the resist line, or let them bleed across to it if you like the effect -- it usually produces a fine light line around the darker resist. Don't load up the brush too much, though, as you don't want the dye to puddle on the silk. If that happens, a bit of brisk judicious brushing will help spread the excess dye.
They can be diluted up to 1:4 with water; best not to go past 1:2 if you want a bright result. I'm not totally sure, but it looks like the more you dilute the dyes, the faster they will spread across the fabric. And if you're using black, best not to dilute at all, as it doesn't have good colour depth otherwise. The first black I got had a lot of sediment in it, which I removed by straining through silk; the second lot was much better. .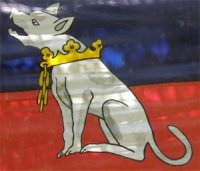 Shading brings the dog to life.
If you're mixing the colours, make sure you do enough for all the areas required, as you're unlikely to match it again without very careful measuring. If you do mix, it may pay to use an eyedropper to control the amounts in a measurable fashion. Test the colour you're getting on a piece of scrap silk; having it held in an embroidery frame is handy for this. Never mix by pouring into your original dye bottles -- always use a separate container. Get ones with a firm or screw-on lid so you can store the results.
A couple of tablespoons of dye will cover a surprisingly large area. It can be handy to make up a couple of different dilutions to give you a set of colours to mix or highlight with. Dipping the tip of the brush into the resist ink and then into water will give you a light grey to wash the image with if you want to provide some shading or shadowing.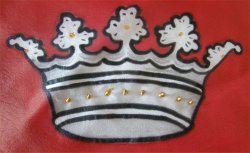 The ducal coronet is highlighted in gold gutta.
I have found that large areas of gold is best done as a mix of warm yellow, rather than trying for a metallic finish. I tested around half-a-dozen different allegedly gold silk dyes and fabric paints, and wasn't really happy with any of them. The main problem is that any metallic-based paint is going to be carrying the pigment in solution. What this means is that it is opaque, so when you paint it on silk and then hold it up to the light, it just looks grey. You're better off using the dye for any large areas and then perhaps using gold metallic paint for small highlights (both sides!). I have tried using gold gutta as a highlighter and it looks fine.
And some mixing just doesn't work -- I ended up with a lot of brown when I tried to make purple out of the red and blue Dharma Pigments. I think that the red is not a particularly true colour. Certainly it's much more orangey than what I'd call red, and next time round I ended up buying the scarlet, which is a much more satisfactory colour for heraldic use. Got a good green out of blue and yellow, however.
I have found it handy to have a silk offcut in a mid-size embroidery frame. This provides a good way to check out colours and shadings,
How much dye you need will depend on how much coverage you require and what dilution rate. A 250 ml jar of dye (approx half dye, half water) was more than enough to do all the red used in the large Kingdom and Southron Gaard banners. So a little goes a very long way. This was one of the factors in choosing these particular dyes.
You want to work reasonably fast so that you are always painting from a wet area. If the dye dries and you paint next to a dry area, you will get lines forming -- this can be used to create some nice effects, but is not good if you want a plain block colour. So resist the urge to paint around all the resist lines first and concentrate on doing large areas from one side to the other. Keep the application of the dye even.
You can use small housepainting brushes (1-2 inch) to quickly cover large areas. Keep a reasonably stiff brush (eg a glue brush) to hand to spread any excess dye (don't let it puddle!). Do watch out for the tendency for the dye to flick into areas you don't want it to be in, so try to work smoothly across the fabric.
If you drop dye into an area that it should not be in, spit on it to keep it wet and then grab two damp cotton wool balls. Put one under the mark and one on top to soak up the dye. You can get rid of most of it this way. Wet cotton buds are also useful. Dab, don't drag. Don't try adding any more dye until the patch has dried out.
The dye will dry to the touch in around an hour or so, depending on the room temperature. Once it's dry, you won't be able to easily do any touch-ups, so try to get it right first go. (It's actually fairly easy, honest!)
If you're making standards, you'll end up with a long triangular piece of silk left over alongside the outside of either side of the standard (see the resist picture above, which shows these). These can make nice little additional flaggage. When I came to clean out a couple of the main dye bottles, I used a small amount of water to rinse them and simply dunked the offcuts into the dye and hung them out to dry, then cased them with bias binding. The red one came out with a particularly disturbing bloody effect which reminded me of references to dipping napkins in the blood of martyrs.....
You can be quite creative with these offcuts. I have put in small Kingdom populace badges in the hoist, diapered stars on them, painted charges from my arms and those of my lord on them. You can make efficient use of remaining dye on your brushes when you've finished with the main body, by having areas where you can wipe them. Being white, they make good pinsils for your tent/sunshade guylines, or fly them under the main body of your standard for an extra bit of flaggy bling.
Finishing Off
Take care when cutting the standards off the frame. The tension does help with a simple slicing action, even if it does feel like the whole thing is going to rip apart, but it's easy for the scissors to take chunks if you're not paying attention.
Iron the silk on a non-steam silk setting. This will set the resist acrylic and help keep the dye colours brighter; the Dharma Pigments will set within 24 hours in any case. You'll find that there is a certain amount of "feel" in the painted areas compared to the non-painted, but it's all within the material rather than on the surface. And this will usually soften after the first wash or rain shower.
The black resist line helps hold the silk's raw edges so I haven't worried about hemming any standards. If you don't want a black line around your standard, you can always use Fastex Extender, which is semi-transparent and doesn't show up much on white silk. We have had standards flying at events for three years with minimal wear showing.
It can help to add a bit of fray-stop (aka glue) to the internal and external points of a swallow-tail standard, as these are the most vulnerable to wear. However, I have found that fray-stop remains sticky and tends to grip other parts of the standard when packed away, it is also not amenable to ironing; so it's not something I would recommended for all edging.
I use a canvas casing, about 2cm wide, to contain the raw edges at the hoist end, and to provide a tube for rope to go through for hoisting. A short length of line could be sewn into it, or the top end sewn shut to drop over a pole, whatever suits how it will be used. Bear in mind that with a 2240mm-long standard, you'll want a pole that is at least 2.5m tall, if not taller. Bamboo poles selected to fit together can be a handy approach.
Care
Bear in mind silk is light -- try to avoid putting it up where it is likely to get snagged on anything (eg trees, armour etc). A ziplock bag is a good container, though be sure the fabric is completely dry before you fold it up for storage.
Flag etiquette demands that you take the flag down if it is raining and at night. The former is very practical -- repeated drenchings will wash out some of the dye and weaken the fabric.
---
Baronial Hangings
One of the early projects I came up with was the idea of encouraging embroidered hangings for the Baronial Pavilion in any style od period embroidery. The hangings were to be a common size to fit between the side poles: 70cm wide by 120cm high.
As it happened, my Baronial Bayeaux Tapestry, which had long been languishing, was the perfect width, but only half the size. Mistress Madeleine was kind enough to give me her unused linen, and so I did another panel with the Tower of Southron Gaard on it, and a Lochac banner and a pennon with a Caidan crescent moon.
One of the other completed hangings was that of Lady Ginevra Isabella Serafina della Visconti, using a design I came up with to demonstrate her exquisite blackwork.
| | |
| --- | --- |
| The Swift Flight and SG hanging by me. | Lady Ginevra's hanging, using my design. |
---