[Latest Newsletter] [RSS Feed] [Call to Action] and freephone number: 0800 234 565

NB: REFRESH this page in your browser to check for more recent updates...
Redcliffs Community NewsSheet and Resources
Published and hosted courtesy of Webcentre Ltd
Issues of the Redcliffs NewsSheet produced from February to April are available below. For the latest information affecting our area, we recommend you visit the Redcliffs Community Info Centre (Beachville and Main Rds, tel. 0800 234 565) and monitor the Redcliffs Information Centre and the Sumner Area EQ info Facebook pages.
Wednesday August 31
Redcliffs Community Information Centre now has its own Facebook page - visit it to keep up to date with news and ideas, and add your own.
Tuesday August 23
All is set for the first Farmers Market tomorrow, then every subsequent Wednesday in the Spur carpark, 2pm-5pm - see this poster for details.
See the notes from the August 18 Redcliffs Redevelopment public meeting. (260KB PDF).
Wednesday August 17
See this poster (2MB PDF) for the August 27 Blues performance at the Redcliffs Tennis Club, from 7pm (tickets $20 from the Info Centre or from Bruce/Robbie 3844-701).
The Hagley/Ferrymead Community Board is holding three community drop in sessions in early September. These are opportunities for residents and groups in the Hagley/Ferrymead ward to drop in and talk with Board members about what is happening in their community. The Board will also be seeking ideas for its submission to the draft Central City Plan. The dates and venues of the community drop in sessions are below:
Saturday 3 September - 10am to 12noon - at the Redcliffs Anglican Church, 148 Main Road, Redcliffs.
Monday 5 September - 4.30pm to 6pm - in the Boardroom at the Linwood Service Centre, 180 Smith Street, Linwood.
Thursday 8 September - 4.30pm to 6pm - at the Richmond Cottage, Corner of London and Pavitt Streets, Richmond.
Residents are welcome to drop in to any of the sessions during the times indicated. For further information please contact the Community Board Adviser on 941 6601.
Tuesday August 16
Wednesday Farmers Market cancelled this week. Tom Davies writes: "The fruit and veg will not come out of the ground sadly, so I have had to cancel the opening of the market this week. All booked for opening on the 24th Weather permitting."
Thursday August 11
See the draft Central City Recovery Plan (draft, August 2011, 150pp 7.8MB PDF).
PUBLIC MEETING: The Redcliffs Redevelopment Group are holding a public meeting at the Bowling Club in James St from 6:00pm next Thursday, August 18. All are welcome to attend and hear about latest information regarding the school, roading, local design ideas and others, and to share your own views on how our suburb should develop.
A Farmers Market is starting every Wednesday from the 17th onwards in the Spur carpark, 2pm-5pm - see this poster for details.
The main sewer line along Main Rd between Barnett Park and Redcliffs Park will be relaid from August 15 to 30 with some consequences for traffic flow and especially parking during that time. See this notice for details.
Great news - a grant application to Westpac back in April/May has borne fruit with funding which will permit the Information Centre office to remain open for several more months.
Wednesday July 13
The Canterbury Earthquake Recovery Authority (CERA) is developing a Recovery Strategy for greater Christchurch and wants to hear what you think, especially about:
Community wellbeing: Housing, employment, education and health Culture and heritage: Arts, sport, recreation, heritage values and taonga
Built environment: All features of the environment made by people
Economy: Investment, business and labour market
Natural environment: Air, land, water, coasts and biodiversity

Community workshops are being held from July 14-18. The nearest one to east of the bridge is:
Saturday 16 July
2-4pm Lyttelton Recreation Centre, Winchester Street, Lyttelton
Wednesday July 6
How do neighbourhoods and districts best survive and recover from disasters? By depending most on neighbours and friends rather than central authorities.
Monday July 4
See this excellent all-in-one contact list for quake-related information and support. (Word document). Also available as a PDF.
Tuesday June 14, 11am
Redcliffs BP is open. Orion hoping to get power back to 95% of houses by tonight, especially hill suburbs. Repairs to water supplies east of the Ferrymead bridge are expected to take several days. Conserve water and power, even if you have it.
Early morning update from Civil Defence:


Christchurch Earthquake - 14 June 2011
6am Media Update

Liquefaction

Liquefaction has occurred throughout the city, mainly in the eastern
suburbs. Several sink holes have appeared. Please drive carefully.


Rock falls

Several rock falls have occurred mainly in eastern hills of Sumner,
Taylors Mistake, Redcliffs, Morgan Valley.

Water

90% of people on the flat have water back on. Hills suburbs have low
water pressure. Teams worked overnight to repair water pipes across the
city.

There is no water east of Ferrymead bridge and repairs are expected to
take several days.

There are drinking water tankers in two locations in the Sumner area and
7 more will be operational this morning..

There is a City wide boil water notice in place.

Wastewater

The Christchurch Wastewater Treatment Plant is operational. There is
limited additional damage to wastewater pipes in the eastern suburbs.

Repair teams are working to fix two additional wastewater pump stations
in the eastern suburbs.

We ask anyone who has a chemical toilet to please use it and if you have
a port-a-loo close to you please use it also.

Roads

The following roads are closed:

Clifton Rd Main Rd - Tuawera
Wakefield St Wiggins - Dryden
New Brighton Road Avondale - East direction along river
Taylors Mistake Road All
Evans Pass Road At Sumnervale (upper) - Lyttelton
Cunningham Terrace All
Ticehurst road All
Ross Terrace All
Heberden Ave
Oceanview Tce

In addition there are a number of roads that are affected by
liquefaction, flooding, damaged retaining walls and rockfall.  The
public are reminded to drive to the conditions.

Contractors have begun to clear roads and this is expected to continue
for a number of days.

Bridges

The following bridges are closed:

* Gayhurst Rd

* Old Waimakariri Bridge

All other bridges are open. Bridge St, South Brighton is open to light
traffic only.

Schools

All Schools and early childhood centres closed today.

General messaging

Look after your friends neighbours and family.

Please minimise travel where possible to help emergency vehicle and
repair teams move around the city.

If you are out please be careful of road damage.


Monday June 13, 11pm
As we (Peter and Vicki) are on leave during June, we recommend checking the excellent Sumner Area EQ info Facebook page for the time being, and/or stop by the Redcliffs Information Centre. If you have new information to share, please post to the above web page or contact Fletcher, 0800 234 565. Hang in there friends -- we've learned how to help each other through much worse, so let's just rinse and repeat. Keep safe!
Friday June 3
Port Hills Stabilisation Update for Residents 3 June 2011: The Christchurch City Council and other agencies working on the rebuild of our city are aware that there is a lot of community interest at the moment in the work of Geotech consultants, and other contractors, on hill stabilisation in the Port Hills. As you will be aware, this is a very complex issue and, depending on the nature or location of the problem, the responsibility lies with either the Council, the Canterbury Earthquake Recovery Authority, the Earthquake Commission, the private landowner or a combination of more than one of these. All agencies are working closely together as the work continues. The Christchurch City Council is responsible for assessing the hillside land where there has been an identified risk to houses or a rockfall hazard. It was the Civil Defence Building Evaluation Team that issued red stickers to properties during the Civil Defence emergency. Red stickers were issued under the Civil Defence Emergency Management Act and expire on 12 July. Council staff will review the status of all 480 red stickers issued to properties on the Port Hills as a result of the Geotech work in coming weeks. The number one priority in this will be the protection of public safety and the safety of homeowners. We will have more information soon for you on this process, including timelines and plans for the roll-out of the assessment. We are currently contacting residents directly via email. if you know someone affected by this work that should be receiving these emails, please send their details to: porthillsgeotech@ccc.govt.nz. Kind regards, Peter Mitchell General Manager, Regulation and Democracy Services, Christchurch City Council.
Going to the Redcliffs Midwinter Christmas Dinner on June 25? It will be from 6pm at the Bowling Club, a fully catered 3-course meal with live entertainment for only $45/head. Get your tickets from the Redcliffs Community Information Centre.
Have you signed the petition asking that the Christchurch rebuild be done in a sustainable way? If not, here it is!
If you need help with temporary accomodation, visit this web page.
Friday May 27
Keith Morant will be talking about his works and his donated piece for charity tonight from 6.30pm at the Pop-Up Art Gallery this evening. Come along for drinks and art.
Monday May 16
The Sumner Community Group has just launched an excellent website presenting relevant recovery-related news and information for the Clifton-Taylors mistake area. Well worth a regular visit!
A new art gallery is to open from this Friday evening (May 20) in the former Ray White office in front of the Redcliffs Community Information Centre. Brought to you by Tom Davies, the same person who launched and runs the Farmers Market, and who has been running magnificent annual art auction fundraisers for Linwood College for years.
Tuesday May 10
Mt Pleasant Farmer's Market comes to Redcliffs! Due to major road works affecting McCormack's Bay Rd, the excellent Mt Pleasant Farmer's Market will be held at the once-and-future Redcliffs New World site this Saturday, May 14 - and possibly for additional weeks depending on the how the road works progress.
Monday May 9
See this excellent summary of the current scientific information about the September and Febuary quakes.
Redcliffs Volunteer Library has reopened and is now operating five and a half days a week from the Croquet Club pavilion in James St.
Redcliffs New World demolition is nearly complete - re-construction timing is very dependent on issues such as land purchase possibilities and related approvals. Also, we have heard indirectly that repair efforts on the Ferrymead Countdown have been abandoned and it, too, may be demolished. But the situation remains unclear, and any timeline for final decisions and action may be later in the year.
Don't forget the Barnett Park community event on May 15 - details immediately below.
Friday May 6
See this flyer for the May 15 Community Event - come along to relax and share good company!
Good news: the Redcliffs Residents Association has formally adopted the Community Information Centre. Some funding has been obtained from the Ministry of Social Development and the Hagley-Ferrymead Community Board to guarantee office rental in its current location until at least August, and a good team of volunteers stands ready to keep it staffed. The new President of the Redcliffs Residents Association is Information Centre stalwart, Fletcher Stanton.
Monday May 2
Terry O'Leary, the Sumner representative for CanCERN, reports on the Port Hills Geotech field trip in this Word document. Some key points from his report and other recent news:

Geotech engineers are working hard, but it's still too early to be making science-based decisions on the most affected hill areas -"We still do not know with any certainty how long it will be before much of this land can be assessed as having an acceptable level of risk."
Many major retaining walls and much public land damage remains to be remedied, as well as private.
Summit Road will be closed for three more months.
Mark Yetton is reluctant to see anyone who has been red-placarded due to the threat of rock fall return to their properties until after the winter. More rock fall is expected to be caused by rain and further possible aftershocks.
A meeting will be held in Sumner in mid May (date to be arranged) in order to keep red placarded residents as informed as possible.
Evans Pass Rd will be closed for safety/remedial work from 8am to 5pm most days from May 2nd and approx. May 20th. There is a very high risk of rockfall occurring onto the road during the work and it is very important that the road closure signs are complied with.
Lest we forget why we live here in the first place -- only some of which has been lost -- see this moving video tribute to Christchurch by Richard Simmonds of Sumner.
Friday April 15
Issue Nine (possibly the final print edition) of the Redcliffs NewsSheet is available below.
Wednesday April 13
See this detailed information from CanCERN (PDF file) about undertaking emergency repairs to your house via Fletchers.
Pat Moynihan from EQC has advised us that there is an outfit presenting itself to homeowners as 'commercial cleaners' and claiming that they are "authorised by the EQC". This outfit calls itself 'The Hit Men' and it appears they are targeting areas known to have been recently visited by EQC Assessors, gaining homeowner approval to clean their homes, and then presenting hefty invoices for the work.
Monday April 11
The April Holiday Guide for Kids provides a detailed list of local kids-oriented activities for the Easter School Holidays.
Wednesday April 6
The shuttle bus has a new timetable, details are here. Basically, it's hourly from 6am (Scott Park departure) until 4pm, then half-hourly until 7pm, then hourly again until 10pm. From the back of Sumner, it's analogous times from 6:30am to 10:30pm. Weekends don't have the half-hourly portion. School buses depart Sumner at 7:00 am and 11:00 am, and from outside Scott Park at 4:40 pm and 7:00 pm.
The next round of Council Community Briefings is mid-month; our nearest now appears to be Sumner School (off Colenso or Wiggin Streets), Sunday 17 April 12 noon.
Community News
Our first Community Spirit Event is coming on Sunday May 1. Come to the planning meeting, Thu April 21, 48 Celia St, or call Fiona 384 9662.
Free Art Therapy workshop, all ages, April 26-29 -- register your interest at the Info Point. For more info call Fiona 384 9662.
Beachville road residents who would like to be actively involved in building neighbourhood support and/or want to be informed of up coming neighbourhood events are asked to email Fiona - fmiller@xtra.co.nz with their contact details along with what they love to do and the skills/expertise that thery're offering Beachville residents. Alternatively drop your details into the letterbox at 51 Beachville Road.
Tuesday April 5
Need to get your broken china valued for insurance? See this page for information.
Some feedback from CanCERN meeting with John Hamilton, Civil Defence head, March 31.
When will we be able to rebuild
On the flat: quoting Gerry Brownlee: "Don't expect to know whether your land will be able to be built on soon, however my priority list is as follows. 1. the Eastern Suburbs, then roads, then the overall recovery strategy and then housing in general"
In the hills: Rock fall and landslides are real ongoing problems and thus long, careful inspections and assessments are being done in the hills. Many areas are seriously affected. In places, remediation of the hills may not be an economical option and as a result rebuilding or future building will also not be an option.

Use of toilets, minimising water use
Basically if you have a portaloo or a chemical toilet (none distributed east of Ferrymead Bridge) you should be using it and not putting any extra strain on the sewer system. You will have seen publicity about how serious the sewage processing situation is looking, so all attempts to minimise water use -- especially what you put down your sinks and toilets -- will be valuable! If you have a viable way to safely recycle grey water on your property, please do so.
Friday April 1
GNS's search for homeowners willing to host a small geosensor is now limited to Kinsey Tce, parts of Richmond Hill, Balmoral and St Andrews Hill. If you live in any of those places, please see the details below.
Thursday March 31
On Feb 22, we had a bit of liquefaction and the resulting mud and silt around Redcliffs, but try this on for size!
Good news! Fletcher advises that the Info Point office has been provided rent-free until the end of April, and there has been an offer (which will hopefully be set in concrete) from the Council to fund it thereafter.
Monday March 28
Several locals are considering a regular "Redcliffs Community " event every second month, such as a craft fair, BBQ/music, treasure hunt, housie, sculpture building... If you might be interested in this, please share your own thoughts and ideas via this brief online survey. Don't miss the option to join a Redcliffs Community email list.
Sunday, March 27
Issue Eight of the Redcliffs NewsSheet is available below.
The Info Point has moved into real premises -- the small rooms behind Ray White's (Beachville Rd, just off Main Rd). Many thanks to Fletcher, Russell, Pauline, Nigel and all the helpers who have kept it running. Though acute needs have lessened, there still seems to be much utility in having this. Please support, provide information, give the helpers a hand.
I you know of instances where the portaloos are not being used and/or where they could be better utilised, please contact ian.Wilson@dia.govt.nz .
Compelling and deatiled satellite imagery of the city and suburbs before/after the quake can be seen at Eqviewer.co.nz - zoom in and out with your mouse scrollwheel.
Tuesday, March 22
Thursday, 12 Noon - Live Band @ the Info Point - come along, grab a coffee or cold drink from the Spur and relax in good company. The Eastern Trio from Lyttelton will provide the entertainment, and your neighbours and the fine folk of the Info Point the company. Catch up with information from the CanCERN briefing with John Hamilton the previous evening. See you there!
Mt Pleasant residents, don't miss the helpful Mt Pleasant Community Centre news site. Sumner residents will already know of Sumner Area EQ info, and all residents east of the bridge may be interested in e-Democracy.org's Redcliffs/Mt Pleasant and Sumner forums.
Monday, March 21
Let's Fix it is a free plumbing service offering to ensure every household has at least one working shower, toilet and sink. If you don't have that much, or if you can offer plumbing help yourself, register on their website!
Saturday, March 19
A half-hourly shuttle service from Sumner through to the Ferrymead bridge (Scott Park stop) starts on Monday, allowing you to catch buses which start their run from the other side of the bridge. Details of this and the school-specific equivalent that runs Monday to Friday are here: http://canterburyearthquake.org.nz/2011/03/18/metro-sumner-shuttle-service-to-begin-from-monday-21-march-2011/
Issue Seven of the Redcliffs NewsSheet is available below.
Thursday, March 17
Next community briefings in our area:

FRIDAY 25 MARCH
    3.30pm to 5.00pm
    Redcliffs – Barnett Park (off Main road)

    6.00pm to 7.30 pm
    Sumner School grounds (off Colenso Street)

Tuesday, March 15
Here is a map of water services available as at March 14: http://canterburyearthquake.files.wordpress.com/2011/03/restored-water-supply-network-status-map.pdf.
Friday March 11, 5pm
Issue Six of the Redcliffs NewsSheet is available below. As power and water are now substantially restored, many shops and services reopened and cordons lifted in our area, we expect to produce only a few more paper editions. Visit this website or call 0800 234 565 for information in future.
A Relief Assistance Centre appears to be open at the Mt Pleasant Yacht Club, and the nearest ATM is now Westpac Ferrymead. BNZ have said they intend to establish an ATM at the BP Redcliffs.
Rotary have kindly taken over the management of the Info Point from the Redcliffs School Board of Trustees. They are still ably supported by local stalwarts such as Fletcher.
Thursday March 10, 6pm
Roy Montgomery, a local volunteer firefighter, offers a reminder about water supplies: if you still have no water, it is very desirable to turn OFF your supply rather than chance problems occurring when it comes back on. Quite a few houses have experienced unnecessary flooding and other issues when supply returned. This can arise from damaged pipework around water cylinders and header tanks, etc. The water meter shut-off is an obvious place to start but there are hill properties that sometimes have toby valves at the rear of the section if water is coming off the hill from above to the house. Sumner Volunteer Fire Brigade and Woolston Fire Station paid staff have assisted many over the past couple of weeks but Mt Pleasant in particular is in something of a grey area in various ways as I have experienced it to date. If anyone needs help and can't get their plumber or fire service and others busy etc. my cell is 027 7271988. When you do turn your domestic supply back on, do it slowly and don't fully pressurise until you have had a chance to check for leaks.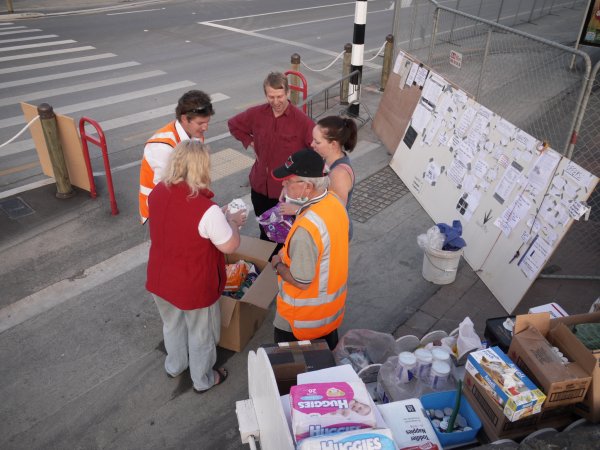 The ever-evolving Redcliffs Info Point at its original location outside New World on Thursday March 3rd.
From left are Glen, Vicki, Peter, Fletcher and another local.
Photo courtesy of Motoki Yotsukura from the Asahi Shimbun
Tuesday March 8, 6pm
CORDON NEWS
Grant Dallow of USAR advises that residents of affected houses in Augusta St, Taupata St, James St, Egnot Heights, Challenger Lane and Defender Lane are all clear to go through any cordons (car or foot) and enter and reoccupy their house provided the house are not explicity red-placarded. To promote overall safety and security, cordons will remain in place until more people are in residence.
Good news from Craig Broderick, owner of Redcliffs New World: the supermarket will be rebuilt, subject of course to land inspection clearance. In the meanwhile, South City New World opened today if people are looking for a local NW to support. Slightly tricky to get to but worth it - well stocked and nice and quiet.
Next Mt Pleasant Farmers market: Sat 12/3/11 10am to 1pm - loads of interest from the last market, and many more stalls expected. See this event page. Pass it on!
Issue Five of the Redcliffs NewsSheet is available below. It contains the minimal new information from the Community Briefing at Mt Pleasant, plus other information gleaned over the weekend.
Monday March 7, 7:00pm
Quotes from Orion site this morning: "As at 3pm Sunday we had 10,000 customers across the network without power" including "600 from Mt Pleasant to Sumner (all areas east of Ferrymead bridge)." ... "We aim to restore power to 99% of customers who can be reconnected, by the end of Monday. This excludes CBD customers due to access restrictions, and the area east of the Ferrymead bridge due to safety issues and some serious cable faults."
Sunday March 6, 5:30pm: Update
At the meeting at 4pm today, Grant Dallow of GNS/USAR told us the following:
There will be on-going assessments of geotechnical issues in the Redcluiffs-Sumner area, with the aim of minimizing the cordons, assessing house status, and providing a chance for access to affected houses.
If a house is red-stickered (whether for geotech or structural reasons), you should NOT enter. If a cordon is up, you should not cross it. Once the cordon comes down, you can enter your property if it has NOT been red-stickered -- use your discretion and at your own risk.
First assessment, set to be completed on Monday or possibly Tuesday, will be Raekura Pl. The cordon is then likely to be pulled back to around the rest home (at this stage).
From Tuesday on, they will be looking at Egnot Heights and above, Taupata St and Augusta St, followed by Balmoral. The Egnot area has one house red-stickered for geo-tech reasons and another 3-4 for structural reasons. The crack across the road is a fill failure, not a geological one; there may need to be some remedial work on the crib wall.
Then progressively they will work their way back out to Sumner, Mt Pleasant, St Andrews. Clifton has some cracks across the road which hold concern for vehicular use. Kinsey Tce is looking OK at the far end, some concerns about the front. More info to come.
Info on the cordons and their placement will be made available as we learn it. Let us know (if you learn something from a reliable source!
On your own property (especially if you've just returned) if you have concerns of a geotechnical nature (eg cracks, rockfalls, structural issues with the house), call the Council line - 941 8999 and mention "Geotech" or "rockfall" or "landslip" or similar to get the info sent to the engineer team. If you want to know about evacuated areas and returns, contact Civil Defense.
In addition to what we learn from official briefings, we're particularly interested in getting updates from any residents about the progress of power and water along Celia St, Beachville Rd and Main Rd to the north of Augusta St. There is water in some of those places now, and power is inching its way along (e.g. the Redcliffs Dairy got it on Saturday afternoon).
Some Musings on the Nature of Information Flow in a Disaster Situation by Vicki Hyde.
The Institute of Professional Engineers NZ has released this interesting fact sheet (1MB PDF) about the quake and its effects on buildings and services.
If you could use an RSS feed to keep track of this page when it changes, here you go!
March 5: Update
SHOT OF THE WEEK: Fletcher of the Redcliffs Info Point airing his opinion.
The Mt Pleasant Pop-up Market was a great success, the Main Road cordon near the school is gone, and EQC/GNS have a sensor-installation request - see item below.
Another local information resource online - Sumner Area EQ info.
March 4: Information from Redcliffs Town Meeting
A meeting was held at 10:30am Friday morning with Ruth Dyson, Kim (School) and Mark Yetton who is in charge of the Council geological services. We learned quite a bit and Issue Four of the Redcliffs NewsSheet (below) has been substantially updated.
March 2: More action needed in Eastern Suburbs right now
Redcliffs is luckier than many suburbs. Please read this call for more action in the mid/northeast. Then act on it!
Redcliffs NewsSheet Online Edition
Download the Redcliffs NewsSheet (by all means pass it on or adapt for local use elsewhere!):
The Redcliffs Info Point is behind the Pop-up Art Gallery on the corner of Beachville Rd and Main Rd. It was initially wholly unofficial but, since Wednesday March 2nd, was supported by the Redcliffs School Board and subsequently by Rotary, the Redcliffs Residents Assocation and the Sumner Bays Union Trust. It is staffed entirely by volunteers, lead by the redoubtable Fletcher Stanton. FREEPHONE: 0800 234 565.
PLEASE correct the physical Info Point noticeboards as their information becomes dated. Or call the freephone 0800 234 565 or email redcliffsinfo@gmail.com.
Helpful Contacts and info (also see latest newsletter above)
Current status in Redcliffs (Monday May 16)
EQC/GNS still have a sensor-installation request for certain hillside properties, esp. on Clifton and Balmoral - see item below.
Almost all Redcliffs retailers and services are open and new ones are opening - support them!
New World will be rebuilt subject to land use clearance.
It's not clear what is happening to our sewerage at present, i.e. does it get to Bromley or not? We're trying to find out.
There is no timeframe for repairing the damaged seawall along Beachville Rd - apparently its state is not seen as dangerous enough to warrant urgent repair ahead of other issues.
---
General and Background Information
If you are going on a shopping run, consider taking a party with you - organised runs tend to happen around 3pm in the afternoons from the Info Point, and New World Halswell have sent a free shuttle on occasion. Courtesy of some family-and-friend donations, petrol vouchers are available to assist those making such runs with others.
St Andrew's Church Main Road Redcliffs is up and running. Open as a help centre 1-4pm every day except Sunday. Church service Sunday – informal & open to all. 11am followed by BBQ byo food. Minister: Paul Heard 3764698; 0273764043
Next Mt Pleasant Farmers market: Sat 26/3/11 10am to 1pm, continuing weekly thereafter - loads of interest from the last market, and many more stalls expected. See this event page. Pass it on!
Youtube clip: Professor Jarg Pettinga, UC Head of Geological Sciences, explains some of the geological factors behind the Christchurch earthquakes including why the 6.3 quake caused such severe shaking.
Youtube clip: Peter Hyde talks to RiseUpChristchurch about the origins and value of the Redcliffs Info Point.
---
Monitoring request from EQC/GNS
EQC/GNS has left us some geosensors to install in order to better monitor possible hill/cliff movement and especially aftershock effects in this area. They are seeking one homeowner in each location below who has power and and a broadband-connected computer that can ideally be left on -- preferably on the ground floor (masonry or concrete slab in contact with ground is ideal, or hardwood floor). We've been running a sensor for them since September and it is no tax on our system in any way.
Near the base of Major Hornbrook Road/along St Andrews Hill Road, Mt Pleasant. (There are already three others spaced up Major Hornbrook)

Somewhere near the high-ish cliffs behind Redcliffs School. Most of the houses on the edge had been red-stickered and disconnected from the grid, so maybe upper Glendevere Tce, Dunkeld or Inverness Lanes, or the upper bits of Balmoral slightly back from the cliff (34, 36, 40, 50 were ok-ish - set back one section width from the cliff). Closer to the cliff is better, within reason...

Kinsey Terrace above Peacocks Gallop would be wonderful, subject to access, maybe one on Tuawera Tce.

any of the houses along Richmond Hill road between 80 and 106, between the road and the cliff edge.

If this is you -- or nearly so -- please email Peter or call him on 021 1xx 7xx. Near misses are welcome, e.g. good location but ground floor not possible, or house is on stilts, or not quite the right address, etc. Thanks!
P.S. Patient people get to watch graphic plots of small aftershocks displayed by the software as they happen -- it's pretty neat!
---
Advertising
Support the relief effort in the most affected suburbs - see possible donation recipients like Sallies etc. on this page.
Mt Pleasant Farmers market: Every Saturday, 10am to 1pm - great stalls, great food, great atmosphere. See this event page. Pass it on!
---
Published courtesy of Webcentre Ltd, with many thanks to Vodafone for their initial mobile data donations and to Office Max and Kyocera for supporting our print publication costs. And thanks also to the guys on the ground from Orion, who were just great, and above all to Fletcher, who has put in SO many hours staffing the Info Point.
See the Eastern Suburbs support initiative and the Linwood College Orchestra Appeal