Pace of Progress
Magnitude of Misery
In Your Words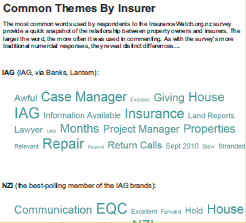 Click for complete document (PDF)
Survey Comments:
"All 'spin' and no substance."
"They have been in no hurry to sort any of their constant mistakes out. They also have no understanding of EQC land issues, variation 48 issues for the area and DBH guideline foundation repair/rebuild guidelines for our house."
"My insurance broker is not interested in me anymore...He said he will look into things for me but never has."